Celia Hammond Animal Trust - Canning Town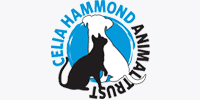 Rehoming Cats & Kittens:
Kent (West), London (East) & Essex
Rescue Centre & Neuter Clinic: 151 - 153 Barking Road, Canning Town, London, E16 4HQ. (Appointment needed to view the cats)
Rehoming To: Postcodes E1 to E18, RM postcodes as far as Chafford Hundred, and all IG postcodes. We can also rehome within the catchment areas of our Tunbridge Wells Branch and Hastings Sanctuary, provided you are willing to travel to London to meet the cats. If you can offer a home to a 'harder to home' cat we will consider homes outside our usual rehoming areas.
When contacting us, please mention that you found us through our Cat Chat Homing Page - thank you!

Cat friendly 18 months old staffie needs a home
Mon, 20 Jun 2016
Gizmo is a handsome 18 months old, male neutered, tan & white staffie cross. He loves other dogs and cats and, of course, the company of people. Gizmo can be left at home for periods of time and is not destructive and is fully house trained. Gizmo's owner is heartbroken about seekin

CHAT website
Fri, 09 Jan 2015
We are experiencing technical difficulties with our website which are being worked on. Our Head Office, Branches and Veterinary Clinics are open as usual. The cats featured on here are only a small amount of the cats currently seeking homes. Please contact us if you are looking for

Urgent appeal for a foster home for Valentina
Tue, 30 Dec 2014
This beautiful tabby girl is Valentina. Sadly Valentina was diagnosed with a mammary tumour. This has been removed but the test results we received have revealed that it is cancer and the chances are that it will return again relatively soon – probably in around 6 months time. Valentina
URGENT APPEAL FOR HOMES FOR FERAL CATS!
Sat, 12 Apr 2014
WE URGENTLY NEED HOMES FOR PAIRS AND FAMILIES OF FERAL AND SEMI-FERAL CATS!! Canning Town Branch now has a lot of healthy semi feral cats. As always we are appealing for more outdoor homes for rescued feral cats. They are ideal for farms, stables, small holdings and even some gardens. They require

URGENT APPEAL FOR MILLER THE DOG!
Thu, 20 Mar 2014
We have just taken in Miller, a beautiful 2-year-old black Staffordshire terrier bitch. Somebody alerted us that a member of the public was trying to sell Miller to passers-by with dogs in the street near our Canning Town clinic. The member of the public had apparently only had Miller for a few d
All about cat homing at the Celia Hammond Animal Trust - Video c
Sat, 08 Feb 2014
How you can help - homing a cat, fostering, sponsorship..... http://www.youtube.com/watch?feature=player_embedded&v=oHCP2TWzG9U
NEEDY CATS AND KITTENS SEEKING HOMES
Sat, 08 Feb 2014
FOR MORE NEEDY CATS AND KITTENS SEEKING HOMES PLEASE VISIT OUR MAIN WEBSITE www.celiahammond.org C.H.A.T takes in more stray and unwanted cats and kittens every day between our two London Branches..... The Celia Hammond Animal Trust has two Branches in London, each runs a low cost neuter clini
PLEASE VISIT OUR WEBSITE FOR MANY MORE RESCUED CATS AND KITTENS
Sat, 08 Feb 2014
Please visit our main website for details of many more rescued cats and kittens seeking new homes. WWW.CELIAHAMMOND.ORG Also Latest News, All about the work of the Celia Hammond Animal Trust, Rescue stories etc

FERAL CATS SEEK OUTDOOR HOMES
Sat, 08 Feb 2014
OUR TWO LONDON BRANCHES HAVE APPROX 90 FERAL CATS SEEKING NEW HOMES. IDEAL AS RODENT PATROL FOR STABLES, SMALLHOLDINGS, FARMS AND LARGE GARDENS OR AS GARDEN CATS FOR PEOPLE WITH ALLERGIES WHO LOVE CATS OR JUST BECAUSE THEY DESPERATELY NEED NEW HOMES! The Celia Hammond Animal Trust spends a lot o
MANY MORE CATS AND KITTENS SEEKING HOMES AT OUR TWO LONDON BRANC
Sat, 08 Feb 2014
Between our two London Branches, Canning Town in East London and Lewisham in S.E. London we have over 200 cats and kittens desperately seeking new homes. Our cats and kittens are vet checked, neutered, vaccinated and microchipped. VISIT OUR MAIN WEBSITE WWW.CELIAHAMMOND.ORG MANY MORE CATS AND KIT

HELP US APPEAL FOR NEW HOMES....DISTRIBUTE POSTERS FOR US!
Sat, 08 Feb 2014
Could you help us appeal for more offers of homes... Homes Needed Posters! Volunteer Azem has very generously taken the time to help design a series of posters for CHAT using some really beautiful photos that have been taken of our cats by our volunteers and foster carers. The p
FOSTER HOMES NEEDED URGENTLY
Sat, 08 Feb 2014
BOTH LONDON BRANCHES ARE FULL TO CAPACITY - FOSTER HOMES ARE URGENTLY NEEDED TO ACCOMMODATE URGENT CASES THAT NEED OUR HELP. FOSTER HOMES URGENTLY NEEDED! HOMELESS PETS IN URGENT NEED. ALL OUR BRANCHES ARE INUNDATED WITH REALLY URGENT REQUESTS TO TAKE IN CATS - MANY FOLLOWING DEATHS OF OWNERS

PLEASE VISIT OUR AMAZON WISH LIST!
Sat, 08 Feb 2014
We have created a wish List on Amazon to make it easy to donate some of the items we really need. Gifts can be sent to our Animal Sanctuary in Brede or either of our two London rescue centres, Lewisham or Canning Town. Brede Sanctuary: http://www.amazon.co.uk/registry/wishlist/7UATHW9XSN89/ref
Articles 1 to 13 of 13 (1 Pages)