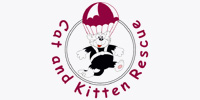 Rehoming Cats & Kittens:
London (West), Hertfordshire, Buckinghamshire & Bedfordshire
Support Shop: 140, Manor Way, Borehamwood. WD6 1QX.
Rescue operating from bases in Borehamwood, Harpenden, Harrow, Hatfield, Hemel Hempstead, Northolt and Watford. We take in and care for unwanted and abandoned cats and kittens and find them loving, responsible homes. We also offer a trapping and neutering service for feral cats, helping to reduce the future stray population.
When contacting us, please mention that you found us through our Cat Chat Homing Page - thank you!
Please Note! This page is updated often, so before contacting us, please 'Refresh' your browser to ensure you are viewing the latest cats, Thank You!
Support Volunteers
Sun, 30 Nov 2014
VOLUNTEERS NEEDED to help in our Support Shop in Borehamwood to organize the books/CDs/DVDs etc, organize the bric-a-brac, prepare clothes for sale, organize the children's toys. Hours to suit Volunteer discount
WOULD YOU LIKE TO BE A FOSTERER??
Sat, 12 Apr 2014
Maybe a cat, an older kitten, a litter of kittens or even a pregnant or nursing Mum? Would you like to help us to continue our good work finding kind and loving homes for unwanted cats and kittens by acting as a fosterer for us? We are totally negotiable about what you can offer us as a foster

COME AND VISIT OUR CHARITY SHOP
Sat, 12 Apr 2014
Cat and Kitten Charity Shop Please come and support our Charity Shop. We are based at 140 Manor Way in Borehamwood WD6 1QX. Opening hours Monday to Friday 10.00 to 16.00 Saturday 10.00 to 14.00 The proceeds of the shop support the work of the rescue. We are looking for volunteers to h
HOUSE CATS / INDOOR CATS
Sat, 12 Apr 2014
WE HAVE SOME BEAUTIFUL CATS AND KITTENS THAT ARE LOOKING FOR AN INDOOR HOME, SO IF YOU DON;T HAVE A GARDEN OR LIVE IN A FLAT WE COULD HAVE THE PERFECT FELINE FRIEND FOR YOU. IF YOU WOULD LIKE TO MEET ANY OF OUR INDOOR CATS, INCLUDING Kram. PLEASE EMAIL US ON
[email protected]
FOR MOR
STABLE CATS **** FARM CATS**** BARN CATS*** OUTDOOR CATS ****
Sat, 12 Apr 2014
Over run with mice, rats or gliss gliss? Need a natural predator to prevent them invading your premises? Need a cat to keep the mouse and rat population at bay at your stables / farm ? Especially now that autumn is upon us and the vermin are coming in from the fields to find she
VOLUNTEER FUNDRAISER NEEDED - exciting volunteer role
Sat, 12 Apr 2014
We are looking for a volunteer to help both raise our profile and raise money to help us continue our work. If you think you could help coordinate our fundraising please either give us a call on 07843 118 426 (12-18 Monday to Saturday) or email us at
[email protected]
We will be hap
Can you help us with Fetching our arriving cats and kittens?
Sat, 12 Apr 2014
From S.Mimms Services M25 J23 Can you help us with Fetching our arriving cats and kittens? We network with other rescues and particularly help Irish rescues with the number of unwanted cats that they have come in and have difficulty homing. The cats and kittens come to the UK in speci
Carriers - plastic or wire carriers only please
Sat, 12 Apr 2014
Have you got an 'old' plastic or wire carrier sitting in the cupboard waiting for that rainy day, but just taking up space.? the size in this case doesn't matter. It doesn't matter if it is missing a clip or a peg or 2 we can fix that. We need more plastic or wire carriers to help
Toys and scratching posts got a spare scratching post, play cen
Sat, 12 Apr 2014
Have you got an old scratching post you no longer want or use? A simple one or a more sophisticated play centre? Whichever we would be grateful to use it in our pens with our cats while they wait to be homed. We are always happy to accept donations of scratching posts and toys. If you would li
Harnesses - cat, rabbit or ferret size gratefully received
Sat, 12 Apr 2014
We successfully socialise shy and nervous kittens to give them a chance of having a normal domesticated life and the chance of a loving home. In the pursuit of this we use harnesses so that the kitten can be prevented from going and hiding. We clip a lead on the harness and walk the kitten around
Collapsable indoor pens/crates/pet airline carriers
Sat, 12 Apr 2014
During the kitten season, which runs April to September, we erect collapsable pens/crates in the house to hold Mums and litters. Do you have a crate or pen sitting in your shed or garage waiting for that 'just in case' moment? Maybe you used it to help in the rearing of your puppy,
Cat food and litter to donate?
Sat, 12 Apr 2014
Don't know what to do with that spare food or litter? Don't look any further. Has your cat gone off the food you bought or only likes certain flavour pouches in the box? Have you any spare litter? Full bags or part bags we can make use of it all. We are always h
Help with cats to vets - Can you offer one or two trips a week?
Sat, 12 Apr 2014
We need your help. All of our cats come vet checked before they go out to their new homes. We have a series of foster homes throughout Beds Bucks and Herts and we use a number of excellent vets in the local area. Can you spare the time to take a cat or kittens to the vet to be checked or spaye
Articles 1 to 13 of 13 (1 Pages)