7th Heaven Animal Rescue Trust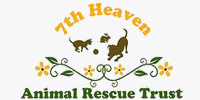 Rehoming Cats & Kittens:
Northern Ireland
We are a dedicated group of animal lovers, rescuing and rehoming stray, abused and abandoned animals in Northern Ireland. For details of our Pet Food Bank / Project Wildcat (feral cat neutering) / Feral Cat Supplies – please see our Info & News section.
When contacting us, please mention that you found us through our Cat Chat Homing Page - thank you!

Project Wildcat Scheme
Sat, 18 Apr 2020
7th Heaven's unique Project Wildcat scheme provides supplies of pet food to people feeding & caring for feral and community cats throughout Northern Ireland. We also will provide waterproof shelters to keep them warm, secure and protected, provided there is somewhere safe to keep them. We wi

Pet Food Bank
Sat, 18 Apr 2020
7th Heaven Animal Rescue runs a unique Pet Food Bank providing a free supply of pet food to pet owners in financial distress throughout Northern Ireland. By providing this temporary support to help in difficult times, we are also hoping that not only will it reduce the pet owner's stress during

Help Feral Cats
Sun, 22 Oct 2017
Here are some of the ways you can support us helping feral and community cats throughout Nothern Ireland. If you would like to help please e-mail us to
[email protected]
Thank you for caring
7th Heaven's October Feral Cat Month
Sun, 22 Oct 2017
7th Heaven designated October to be Feral Cat Month. Feral cats are frequently ignored, and even considered pests by some. 7th Heaven simply see them as felines that like living al fresco, providing they are safe.7th Heaven last year introduced 'Feral Cat Month' for the whole of October. We

Can you help 7th Heaven's new Landlord Project?
Mon, 29 Feb 2016
I am hoping you can help me please. We are a small, registered animal rescue charity based in Northern Ireland. One of the main reasons we have identified as to why people are asking us to take in their animal is because they are moving into rented accommodation and are finding it difficult, if not

7th Heaven's New Project: Help us find Pet Friendly Landlords
Sat, 31 Oct 2015
7th Heaven Animal Rescue Trust is seeing a huge increase in people having to give up their pets when they move to new accommodation. Landlords throughout Northern Ireland seem reluctant to let pets stay too and many who do charge extra assurance, which many tenants cannot afford. This force
Articles 1 to 6 of 6 (1 Pages)