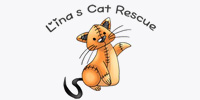 Rehoming Cats & Kittens:
Derbyshire & Nottinghamshire
A small group based in the East Midlands committed to rescuing, rehabilitating and re-homing cats and kittens. All cats are kept in foster homes for comfort and will leave neutered, vaccinated, microchipped, up to date with flea and worm treatments, and with 5 weeks free pet insurance. We also offer our adopters life time back up. Anyone interested in adopting must visit the cat at least once before making a reserve. A home visit will then be needed before you can return to collect.
When contacting us, please mention that you found us through our Cat Chat Homing Page - thank you!

Kitten season
Wed, 31 May 2017
Kitten season has definitely arrived at Linas Cat rescue. There are a total of 21 kittens, 5 mum's with their litters and 2 pairs. That's alot of hungry mouths to feed! Any donations of food would be most appreciated, for more information please email
[email protected]
Please join the

Christmas Fair and Adoption Drive
Sat, 21 Nov 2015
Come to our Christmas Fair!

Lina's runs 'Adopt a Black Cat' week
Wed, 24 Jun 2015
It's 'Adopt a Black Cat' week! Black cats are notoriously difficult to find homes for and we don't think it's fair! People have lots of different reasons why this could be, from the fact they 'blend in' to pens and don't "stand out" on websites, to the
Scarlett gives birth to 7 babies!
Sun, 05 Apr 2015
We are pleased to let everybody know that Scarlett, a pregnant female who was found as a stray, has given birth to 7 kittens! She gave us a right run-around by escaping her temporary foster home and having 4 kittens on a roof. After tempting her back down again, she surprised us by having 3 more

'Snowy' gives birth to three kittens
Mon, 30 Mar 2015
We are pleased to announce that 'Snowy', a pregnant cat found as a stray, has now given birth to three gorgeous kittens! The birth went without any serious complications, and the kittens are now suckling happily. They will be ready for viewing from mid-May. Please see our website for m
2014 figures for Lina's Cat Rescue are 'Excellent'
Thu, 01 Jan 2015
Lina's end-of-year figures have now been released, and they show just how much hard work has been done by everybody in 2014. Here is a statement from the director, Sheryl Leonardi. 313 cats and kittens successfully adopted. 57 cats neutered through our new neutering scheme which only start
Lina's has busiest January ever!
Sat, 31 Jan 2015
We are pleased to announce that Lina's had an incredibly busy January with a record number of cats rehomed. This means we are experiencing a bit of a quiet period whilst the new cats settle in, but expect to have several more ready by mid February.

Ella, a rescued stray, gives birth!
Fri, 06 Mar 2015
Ella was rescued a couple of weeks ago as a heavily pregnant stray. We are pleased to announce that, despite a couple of complications, Ella has now given birth to 3 beautiful little kittens. Please note that the family will not be accepting visits until the kittens are at least 6 weeks old.
Articles 1 to 8 of 8 (1 Pages)