Bentham & District Pet Rescue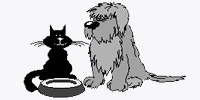 Rehoming Cats & Kittens:
Cumbria, Lancashire & North Yorkshire
Based in High Bentham, rehoming cats in North Yorkshire, South Cumbria and North Lancashire. All of our cats are neutered, micro-chipped and vaccinated before rehoming.
When contacting us, please mention that you found us through our Cat Chat Homing Page - thank you!

Like every other rescue centre, we need help!
Fri, 01 May 2020
During the COVID-19 crisis all our fundraising activities have had to stop - but our work hasn't. Many of the cats in our centres could not be re-homed because of the lock-down but we still needed to feed, treat and care for these animals. Even now, as we begin re-homing again, we still ha
A new future for our charity: Are you a potential trustee?
Thu, 24 Oct 2019
Bentham and District Pet Rescue is seeking new trustees to help secure an exciting new future for the organisation. As a small volunteer-run animal welfare charity covering an area on the border between North Yorkshire, Lancashire and Cumbria, our primary purpose is to take in stray or unwanted p
Any volunteers out there?
Mon, 20 May 2019
We'd love you to join our team of enthusiastic cat-lovers who (a) commit an hour or two every week for cleaning & cuddling duties at our sanctuary and/or (b) run our fund-raising events. Please contact us through our website if you live in our area and would like to help - www.benthampetresc
Black (cat) Friday?
Fri, 23 Nov 2018
Never mind shopping for bargains on Black Friday at the end of this month, how about taking home a Black Cat instead??!! With lots of love, cuddles and purring on offer in exchange for food and a cosy home, that sounds like a bargain to us!
Moving into the 21st century!
Tue, 09 Oct 2018
Yes, at last! We now have a facility to accept online donations through our website via PayPal. Yippee! Let's hope there are lots of you out there who would like to support us and the work we do. Thanks to Richard for help in getting this set up. And thanks to anyone who tries it out
Calling Co-op members ...
Sun, 15 Apr 2018
We are delighted to have been chosen as one of Bentham's three local causes who are to benefit from the Co-op's Community Fund this year. As a member, every time you shop at the Co-op, 1% of what you spend on selected own-brand products and services goes to the local community
Articles 1 to 6 of 6 (1 Pages)