Celia Hammond Animal Trust - Lewisham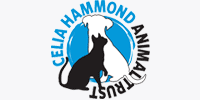 Rehoming Cats & Kittens:
London (West), London (East) & Kent (West)
Rescue Centre & Neuter Clinic: 233 - 235 Lewisham Way, London, SE4 1UY.
Opening times: Open Day Every Saturday 1p.m – 5p.m at other times viewing the cats is by appointment only.
Rehoming To: All SE London and BR (Bromley) Postcodes. Also N.Kent (Welling, Bexley, Sidcup, Swanley, Dartford), Croydon and SW London (SW8, SW9, SW2, SW11, SW4, SW12, SW16, SW17). We can also rehome within the catchment areas of our Tunbridge Wells Branch and Hastings Sanctuary, provided you are willing to travel to London to meet the cats. If you can offer a home to a 'harder to rehome' cat we will consider homes outside our usual rehoming areas.
When contacting us, please mention that you found us through our Cat Chat Homing Page - thank you!

PLEASE VOTE FOR CHAT AND HELP US WIN £100,000 TO HELP ANIMALS IN
Tue, 06 Nov 2018
We are delighted to have been chosen as one of the three finalists in the Animal Friends Pet Insurance £100,000 Charity Give Away! Voting opened TODAY and continues until 10th December 2018. The winning Charity will receive £100,000 to help fund their work - such a

TOP CAT OPEN DAY SAT 28TH MAY 2016
Mon, 23 May 2016
'TOP CAT' THEMED OPEN DAY In conjunction with the release of 'Top Cat Begins' in cinemas from the 27th May and Warner Bros UK . The Celia Hammond Animal Trust at Lewisham is holding an extra special Open Day on Saturday the 28th May from 1-5 pm to showcase the many cats we

OPEN DAYS
Wed, 28 Jan 2015
Lewisham Branch Rescue Centre will be open every Saturday and Sunday afternoon between 1p.m and 5p.m! ADOPTION PROCESS: Our Open Days are an opportunity for you to come and meet us and some of our cats and to discuss offering a home. Our cats and kittens are r

An appeal for our young kittens and their mums!
Sun, 25 May 2014
We are still very early on in the kitten season, but we are already being swamped with mums and their kittens. Our foster homes are filling up fast, as are our branches, and we are in desperate need of good quality food to give them the best start in life possible! We have listed some food e

PLEASE HELP US APPEAL FOR HOMES FOR FERAL CATS...DISTRIBUTE POST
Tue, 27 Jan 2015
OUR NEW FERAL/SEMI-FERAL CAT POSTER.... We have a brand new poster to promote our feral/semi-feral cats needing homes, and would love it if you can all share this with your contacts in Kent/Surrey/Sussex/Essex who may have smallholdings, farms or stables. We have a high quality copy of this po
All about cat homing at the Celia Hammond Animal Trust - Video c
Tue, 11 Feb 2014
All about cat homing at the Celia Hammond Animal Trust - Video clip How you can help - homing a cat, fostering, sponsorship..... http://www.youtube.com/watch?feature=player_embedded&v=oHCP2TWzG9U
MORE NEEDY CATS & KITTENS
Tue, 11 Feb 2014
FOR MORE NEEDY CATS AND KITTENS SEEKING HOMES PLEASE VISIT OUR MAIN WEBSITE www.celiahammond.org C.H.A.T takes in more stray and unwanted cats and kittens every day between our two London Branches..... The Celia Hammond Animal Trust has two Branches in London, each runs a l
PLEASE VISIT OUR WEBSITE FOR MANY MORE RESCUED CATS AND KITTENS
Tue, 27 Jan 2015
WWW.CELIAHAMMOND.ORG PLEASE VISIT OUR WEBSITE FOR MANY MORE RESCUED CATS AND KITTENS SEEKING NEW HOMES Please visit our main website for details of many more rescued cats and kittens seeking new homes. Also Latest News, All about the work of the Celia Hammond A

FERAL CATS NEED HOMES
Tue, 11 Feb 2014
OUR TWO LONDON BRANCHES HAVE APPROX 90 FERAL CATS SEEKING NEW HOMES. IDEAL AS RODENT PATROL FOR STABLES, SMALLHOLDINGS, FARMS AND LARGE GARDENS OR AS GARDEN CATS FOR PEOPLE WITH ALLERGIES WHO LOVE CATS OR JUST BECAUSE THEY DESPERATELY NEED NEW HOMES! The Celia Hammond Animal Trust sp
MANY MORE CATS AND KITTENS SEEKING HOMES AT OUR TWO LONDON BRANC
Tue, 11 Feb 2014
Between our two London Branches, Canning Town in East London and Lewisham in S.E. London we have over 200 cats and kittens desperately seeking new homes. Our cats and kittens are vet checked, neutered, vaccinated and microchipped. VISIT OUR MAIN WEBSITE WWW.CELIAHAMMOND.ORG MANY MORE CA

HELP US APPEAL FOR NEW HOMES....DISTRIBUTE POSTERS FOR US!
Tue, 11 Feb 2014
Could you help us appeal for more offers of homes... Homes Needed Posters! Volunteer Azem has very generously taken the time to help design a series of posters for CHAT using some really beautiful photos that have been taken of our cats by our volunteers and foster ca

PLEASE VISIT OUR AMAZON WISH LIST!
Tue, 27 Jan 2015
We have created a wish List on Amazon to make it easy to donate some of the items we really need... We have created a wish List on Amazon to make it easy to donate some of the items we really need. Gifts can be sent to our Animal Sanctuary in Brede or either of our two Lond
FOSTER HOMES NEEDED
Tue, 11 Feb 2014
BOTH LONDON BRANCHES ARE FULL TO CAPACITY - FOSTER HOMES ARE URGENTLY NEEDED TO ACCOMMODATE URGENT CASES THAT NEED OUR HELP. FOSTER HOMES URGENTLY NEEDED! HOMELESS PETS IN URGENT NEED. ALL OUR BRANCHES ARE INUNDATED WITH REALLY URGENT REQUESTS TO TAKE IN CATS - MANY FOLL

HOMES NEEDED FOR FERAL CATS
Tue, 11 Feb 2014
These are a group of older semi-feral cats. CHAT neutered and returned this colony of cats a number of years ago. The person who fed them and let them live in her garden moved and the property was bought by a building company who planned to convert it into flats so we had no option but to bring t
Articles 1 to 14 of 14 (1 Pages)