Cat Chat sources new, loving homes for rescued cats from shelters and rehoming groups nationwide. Our volunteers are vital to making Cat Chat work, giving their valuable time, expertise and energy. Thousands of ex-rescue cats are purring in their new homes thanks to our smashing Volunteer Teams!
A big THANK YOU to all our volunteers... we couldn't do it without you!
---
Homing Pages Help Team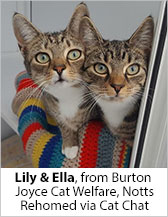 Assisting those shelters who need help updating their Cat Chat Homing Page. The team regularly assists with re-sizing and optimizing cats' photos, or adding cats' details to the pages in response to shelters' requests. Help is also offered for more extensive page updates where needed. The Help Team also enables shelters without any computer access (yes, there are still one or two!) to have a Cat Chat homing page, by making updates to pages using details supplied by phone.
Cat Monitoring Team
These are the folks who keep a check on the cat homing pages to ensure that everything is running smoothly, and that the pages are up to date. This team is essential for highlighting any shelters who may need a helping hand with their page. Cat Monitors also ensure that any cats on our 'Overlooked Cats' section are also featured on the cat homing pages, to increase their chances of finding homes.
Overlooked Cats Team
Giving extra publicity to harder-to-home and long-stay cats. Using photos and details supplied by each shelter, the Overlooked Cats team are responsible for creating each cat's own story, told from the cat's point of view. These team members certainly need to be at one with feline thoughts and feelings! As a result, our Overlooked Cats section generates many more homing enquiries, and super homes for even the hardest to home cats.
Homed Cats ('Roll of Honour') Team
These volunteers maintain our Homed Cats (Roll of Honour) section, where we showcase some of the happy homings achieved through the Cat Chat pages. Using photos and homing information sent in to us by the shelters, the team post a selection to the Homed Cats section for all to enjoy. This is the ultimate feel-good job, as our Rehoming Roll of Honour Team get to hear about all the cat homing successes!
Social Media Team
This team is responsible for establishing and maintaining a strong social network, helping to spread the rescue message, and raising awareness of Cat Chat's work. Our Social Media Team post regular updates on our Facebook Twitter and Instagram pages about Cat Chat activity; including cats needing homes and homing success stories, as well as a variety of interesting and fun feline stuff!
Public Advisory Team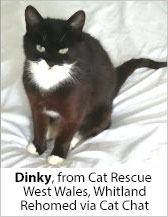 Our Advisory Team deal with a wide variety of enquiries from the public. Our HelpDesk volunteers are responsible for answering public email enquiries on a day to day basis, as well as queries received via our social media pages. HelpDesk team members have a good knowledge of cat rescue and welfare issues, so can give experienced advice, and suggestions of useful resources. We also have a qualified, volunteer Veterinary Adviser who deals with any non-urgent veterinary enquiries, and a qualified Behavioural Adviser who specialises in feline behavioural issues and cat psychology.
Website Development
The Cat Chat website is constantly evolving and expanding, and is always under review. New pages are continually being added, and sections improved and updated, all of which needs research, development and testing. As well as developing the site, some sections need to be maintained on a daily basis, such as our shelter listings, links section, and our advice & information pages. Assisting our web-wise team, we also have a volunteer IT adviser, Google Adwords administrator, web designer and a vital team of helpers, testers and checkers!
Administration & Fundraising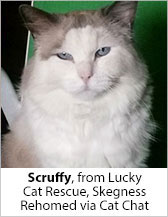 Often the un-sung heroes, working away in the background, but absolutely essential. Our Financial Admin volunteers are vital to keep our finances in order; from processing donations and Friends of Cat Chat subscriptions, to dealing with page sponsorships and collection pots. Our Web Shop Administrator and Merchandise Co-ordinator work closely together, fulfilling orders made through our web shop and eBay.
News & Publicity
Our monthly News Update is a great way to reach out to supporters, rescue shelters and the general public. Our small publicity team collaborate to produce an attractive news update which is interesting, informative and with a good selection of happy homings! To help with other publicity, such as press articles, we are fortunate to have our own graphic designer.
The Committee
And last (but by no means least!) our committee, all volunteers, are integral to everything we do at Cat Chat. The committee consists of seven trustees, including the two founders of the charity, who between them have a wide variety of skills and experience. The committee meets every six weeks, to discuss all aspects of Cat Chat and its work, at all times ensuring that the charity works within Charity Commission guidelines. Trustees are responsible for reviewing the charity's activities in relation to its objectives, monitoring its progress and planning initiatives to further achieve the charity's aims.
---
Online Volunteering: click below for current opportunities:


---
We are always pleased to hear from anyone who can offer their time to the charity in ways that we hadn't thought of. If you have skills or expertise not mentioned above, and would like to help, please email us at: This email address is being protected from spambots. You need JavaScript enabled to view it.