Are you looking for a kitten (or two) to become part of your family?
Did you know that between April and November (known as 'kitten season') there are thousands of kittens up for adoption in rescue and rehoming centres across the UK and Ireland? In fact, due to recent milder winters, some rescue centres have kittens needing homes throughout the year.
» See Cats and Kittens For Adoption
» Find Your Local Cat Rehoming Centres
Why So Many Kittens in Rescue Centres?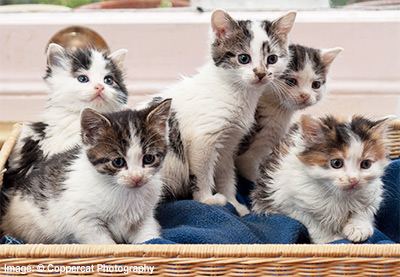 Aren't they gorgeous? Cute, playful, cuddly, inquisitive, adorable...
So... How Come Thousands of Kittens end up in Rehoming Centres Every Year?

From spring through to late autumn, literally thousands of kittens (and their mums) come into rescue shelters across the UK and Ireland. Sometimes they are taken in when a stray cat has had kittens, but all too often it is where unthinking owners have simply not bothered to have their cat neutered, and then find themselves with an unplanned, unwanted litter.
There are already far too many cats in rescue centres across the country, and not enough homes to go round. Adoption really is the best option!
Whilst people continue to buy from classified ads and breeders, or neglect to neuter their cat, then more litters are produced. This leaves rescue centres full, and keeps breeders and kitten-farms in profit. This is a totally unacceptable situation, but you can help by adopting from a rescue centre, and by neutering your pet at four months old.
So, if you are looking for a kitten (or two)... Please Rescue, don't buy!
Want To Adopt A Kitten?
April to November is main 'Kitten Season', and most rescue centres across the country will have mums & kittens needing homes at that time. If there are no kittens available for adoption when you contact your local rescue centre, ask to be put on their waiting list for when there are kittens ready for homing. You can normally arrange for the home-visit to be done in advance, so that when there are kittens old enough for homing you are ready to adopt.
Kittens settle much better if they have feline company. A single kitten on its own may become lonely, overly demanding or clingy, since it no longer has its littermates to play with, or mum for reassurance. So if you don't already have a cat, it's a very good idea idea to adopt two kittens together.
Never had kittens before? Read about one couple's experience of being first-time kitten owners here: Adopting Kittens? Brace Yourself...
» See Cats and Kittens For Adoption
» Find Your Local Cat Rehoming Centres
Why go to a Rescue Centre?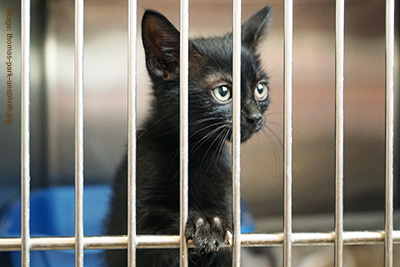 A rescue centre's main priority is the health and wellbeing of the animal. Rehoming organisations are very careful to match each animal with the right home environment, both for the benefit of the pet and the people! They will also offer advice and support where needed, even after adoption. If for whatever reason things don't work out (such as not getting on with another pet), the rescue centre will take the animal back into their care.
Kittens from rescue centres will have been vet-checked prior to adoption, including being de-flead and de-wormed where necessary, and neutered if old enough. Also, by rescuing you free up that place for the next unwanted cat.
Our Top 10 Reasons to Rescue...
Rescue centres put the animal's health and welfare first - not money
Kittens & Cats will already have been vet-checked, de-wormed and de-flead
Rescue centres take a lot of care to match the right animal to the right home
A rescue centre will offer you cat-care advice and support even after adoption
If things don't work out, a rescue centre will take the cat back for rehoming
Many rescue centres offer help with neutering costs if you are on a low income
Kittens will only be homed when they are old enough, and fully weaned
Rescuing helps ease, and not add to the cat over-population crisis
You are helping two cats - by freeing up that rescue place for another cat in need
By rescuing, you are giving a home to an animal who really needs it!


A Kitten Becomes a Cat... and a Cat is for Life!
Rescuing can be one of the most rewarding things you will ever do, but do think carefully first. It is a long-term commitment, much like a marriage, for better or worse, in sickness and in health. The average life span of a cat is 12-16 years, but many can reach 20+ years.
Cat food is relatively cheap, but vet bills and cattery fees must be considered. Taking out a good pet insurance plan is also a very sensible idea. Right now, there will be any number of incredibly loving and unique cats and kittens waiting patiently, in rescue centres in your area... waiting for someone like you to offer them a new life.
If you can offer a secure, 'forever home' to a kitten or cat: Contact your Nearest Rescue Centres
» See Cats and Kittens For Adoption
» Find Your Local Cat Rehoming Centres
Can I Rescue a Pedigree Kitten?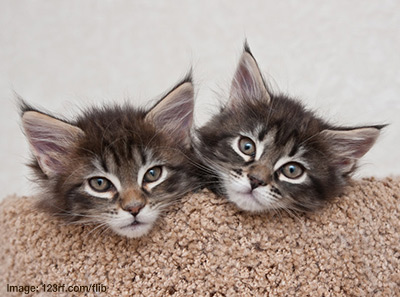 If you are thinking of buying from a breeder because you want a pedigree kitten, you may be interested to know that pedigree cats also end up in rescue centres!
Although it is more often adult pedigrees who find themselves in need of a home, and not usually kittens, it is worth making enquiries through the breed club's welfare divisions, and also at your local rehoming organisations. Most of the pedigree breed clubs have a welfare arm, which operate a rehoming scheme for unwanted or surrendered pedigree cats.
Visit our Pedigree Rescue Centres page, or ask your local Cat Rescue & Adoption Centre.
Pet Shops & Lucy's Law
In April 2020 following 10 years of dedicated campaigning, Lucy's Law came into force in England, which bans the commercial third-party sale of puppies and kittens under six months of age. This means that anyone wanting a kitten or puppy needs to either adopt from a rehoming centre or buy directly from a licensed breeder who has bred the kittens themseves. In September 2021, Lucy's Law also came into force in Scotland and Wales.
This is a hugely positive step in the right direction for animal welfare. Lucy's Law is, at last, the beginning of the end for cruel puppy mills and kitten farms.
By rescuing, you are giving a home to an animal who really needs it, and not helping those who breed and sell for profit.
Why not buy from Classified Ads?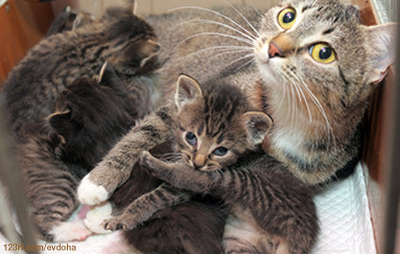 Newspapers and some classified ads websites often include a "pets for sale" section in all good faith that the sellers will be registered breeders offering healthy kittens. But classified ads are littered (pun intended) with scammers and animal abusers, peddling unfortunate pets to the unwary public. Sometimes the animal has undisclosed health issues, or behavioural problems. These ads are are often used by criminals acting as 'fronts' for illegal kitten farms, out to make a quick profit – at the expense of the animals. The UK Government has launched the Petfished campaign to inform people about these deceitful pet sellers, and how to avoid them.
Some uncaring people use their female cat(s) purely as a source of kittens, to be sold on for profit, often deliberately ensuring their cat gets pregnant time and again to produce as many litters (and as much profit) as possible. This is completely unfair to the mum cat, whose health suffers terribly as a result.
Another problem with classifieds is that all too often, kittens and puppies are sold at less than 8 weeks old, before they are properly weaned, even though that has been illegal since October 2018. This can lead to both health and behavioural problems, and there will be no back-up or support later, as you would get with a rescue centre. Buying a pet from a Classified Ad just perpetuates this uncaring trade in animals. Whether you want to adopt, or need to rehome a pet, it's far better to contact your local rescue centre.

For animal welfare's sake - please avoid the Classified Ads!
» See Cats and Kittens For Adoption
» Find Your Local Cat Rehoming Centres
What about Breeders?
Whilst of course there are many dedicated, registered breeders of pedigree kittens who take very good care of their animals, there are still far too many unscrupulous 'back yard breeders' who do not ensure the health of the kittens they sell. Third-party pet dealers are banned under Lucy's Law, but that doesn't stop the unscrupulous con merchants claiming to be a registered breeder and pretending that they have bred the kittens themselves.
If you are set on having a pedigree kitten, please check very carefully the record of the breeder, and ensure they are properly registered. Illegal pet dealers can be very convincing, and are often 'fronts' for illegal kitten and puppy farms, with deplorable animal welfare conditions. Please remember, breeding further litters ultimately uses up homes that cats or kittens from a rescue centre could have had.

You may think it's 'safer' to go to a breeder - but do we really need yet more litters?
The Kitten Checklist
Thinking of getting a kitten? Use The Kitten Checklist to help you find a healthy, friendly kitten and to avoid some of the pitfalls. Whether you are adopting a kitten from a rescue or buying from a breeder, whether it is a moggie or a pedigree, the same principles apply.
How you choose a kitten can influence both the welfare of the cat throughout its life, and your enjoyment of having it as a pet. The checklist is produced by The Cat Group, a collection of professional organisations dedicated to feline welfare: The Kitten Checklist
Ready to Rescue?
» See Cats and Kittens for Adoption
» Find Your Local Cat Rehoming Centres
---