If you are thinking of welcoming a new pet into your life, whether that's a cat, dog, rabbit or any other kind of animal, read on to find out why Adoption is the BEST Option...
---

The UK Pets Problem
During the coronavirus lockdowns, the demand for pets, particularly dogs and cats rose dramatically. This resulted in an increase in unscrupulous, illegal sellers breeding pets for profit. They pretend that the puppy or kitten they're selling you comes from a happy home, when in fact they just exploit animals to line their pockets. Many 'lockdown pets' bought from dealers have since ended up in rescue, and shelters are once again full to bursting.

But You can Help!
Adopting from a rehoming centre is a win-win, for you and for animals. The animal's welfare is the top priority whilst in rescue, and by adopting you will avoid funding illegal kitten and puppy farms and pet dealers. There are many benefits to adopting a pet instead of buying - see our Top 10 Reasons to Rescue below to find out why adoption is the best option.
---
Top 10 Reasons to Rescue
---
1. Rescuing Feels Fantastic!
To know that you have given an animal a whole new future – and a second chance of happiness - feels amazing. The amount of love, trust and loyalty a rescued animal can show you is incredible. Adopting a rescued animal is one of the most rewarding and compassionate things you can ever do.
2. Being Rescued Feels Fantastic!
Rescued animals often seem to know that you have 'saved' them, and will repay your love ten-fold. Whilst waiting in a rescue centre, sometimes for many weeks, or even months, a loving home is what they had hoped for most - and you just made their dreams come true.
3. Putting Animal Health & Welfare first
Rescue centres put the animal's health and welfare first - not money. Rescued animals will already have been neutered, vet-checked, de-wormed and de-flead prior to adoption. Kittens will only be homed when they are old enough, and fully weaned. Many rescue organisations even include a few weeks free pet insurance when you adopt.
4. Matching you with your Perfect Pet
Pets as well as people vary enormously, and rehoming organisations take great care to place the right animal in the right home. Unlike the 'pet trade', rehoming centres assess the needs and personality of each animal, and do their utmost to ensure that you are matched with the most suitable pet for your family and lifestyle.
5. Post-Adoption Advice & Support
A rehoming centre will always be happy to give advice and support, even after adoption. On the rare occasions when things don't work out, or if your circumstances change so that you can longer care for your pet, most rescue centres will take them back into their care for rehoming, or at least will assist with further rehoming.
6. By Adopting You are Helping TWO animals
When you adopt, you are helping two (or more) animals; the one you adopted, plus you have freed up that shelter place for another animal in need. Many rescue centres have waiting lists of animals needing to come into care, so when you adopt, another animal can then be helped.
7. Your Adoption Donation Helps Animals
Rehoming centres are by their very nature, 'non-profit' organisations. The adoption fee (donation) you pay when you adopt goes towards helping the animals (neutering, vaccinations, vet bills, food, litter, bedding etc) and not to line someone's pocket.
8. Helping to Stop Illegal Pet Dealers
By rescuing, you are helping stop illegal pet dealers who cheat to avoid the law whilst animals suffer (more about those below in the 'Avoid' section). It's kinder, cheaper, safer and more compassionate to adopt from a rescue centre or rehoming organisation.
9. Every Animal Deserves a Home
No-one likes to think of animals being homeless. Therefore, we must do all we can to find homes for the animals who currently don't have one, and not to bring more into the world all the time rescue centres are full. This is simple common sense.
10. The Bottom Line
If you truly love animals, for all these reasons and more, rescuing is the best, most compassionate choice.
If You Love Animals, Adoption is the BEST Option
Myth Busting
Common Misconceptions about Adopting a Rescue Animal
Myth: "Don't all rescue animals have problems or emotional baggage?"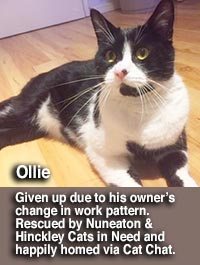 Wrong! The vast majority of rescued animals are just regular pets, from regular homes who have just had a bit of bad luck. Most animals come into rescue due to a change in their owners' circumstances, such as: relationship break-ups or divorce, accommodation issues, change of job, emigration, death of an owner, or a family member having an allergy. Many perfectly lovely cats come into rescue as 'strays' who have simply become lost, but who are not microchipped and the owner can't be located. Then there is the summer influx of kittens when people have left neutering too late and find themselves with an unplanned litter which then ends up in rescue. Only a small number of animals will have been rescued from abuse or neglect, for whom especially patient or experienced homes are needed.
Myth: "Isn't it cheaper to buy from an on-line ad than adopt from a rescue centre?"
Wrong! Before adoption, rescued animals will already have been health-checked, neutered, vaccinated, treated for worms and fleas and sometimes microchipped too. When you buy from an on-line ad not only could you fall prey to illegal pet dealers, all those extra expenses will be down to you. You are much more likely to get a healthy pet from a rescue centre, and some shelters even give you a few weeks free pet insurance too.
Myth: "I want a kitten or puppy, but rescue shelters only have older animals"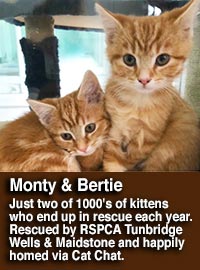 Wrong! Rescue Centres need to find homes for animals of all ages, including kittens and puppies. In 'kitten season' (April - November) most rescue & rehoming organisations will have kittens for adoption. In fact, due to the recent milder winters, some shelters have kittens needing homes throughout the year. If there are no youngsters ready when you enquire, ask to be put on their waiting list for when some become available. Read our Top 10 Reasons to Adopt a Kitten - but bear in mind, they won't stay 'babies' for long.
Myth: "Some animals stay in rescue for ages, there must be something wrong with them?"
Wrong! Because rescue centres usually have a variety of animals looking for a home, the sad fact is that many perfectly friendly, loving pets are continually passed by, simply because there is so much choice! Some animals get overlooked if they are less confident than the others, or are a little shy, or if they are just plainer in appearance. Black and black & white cats are often passed by in favour of 'prettier' colours, but will make just as wonderful pets. Rescue centres will make it clear which animals have special needs, because they want to find their ideal home.
Myth: "I Need to go to a Breeder because I want a Pedigree Pet"
Wrong! You don't have to go to a breeder if you have your heart set on a pedigree pet. Even the poshest of pets can find themselves in a situation where they are in need of rehoming. There are a number of breed-specific rehoming organisations for cats and dogs, plus most pedigree breed clubs have a welfare division, which operates a rehoming scheme for unwanted pedigrees. Pedigree Cat Rescue & Adoption centres | Links to Dog Breed Rescue organisations. Regular rescue centres also sometimes take in pedigree breeds.
Rescuing an Animal won't Change the World...
but it will Change the World for that Animal
So... Why do Animals end up in Rescue?
Pets of all kinds end up in rescue care for a variety of reasons, some unavoidable, but always through no fault of their own. Such as...
Relationships & Jobs: Often when people change their partner or their job, it's the pets who lose out. Common reasons for pets being given up for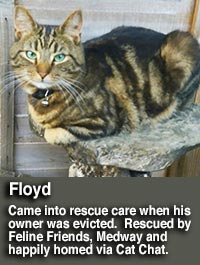 rehoming are: relationship splits, divorce, a new partner and pets not getting along, the mix of pets owned by both partners not working out, a new job working longer hours, working away from home, or emigrating.
Finances & Accommodation: The current economic climate means that many more people live in rented accommodation, and may have to move home more often. Sadly, many landlords (those who don't use the government's Model Tenancy Agreement) will not allow animals, which is sadly a very common reason for people having to give up their pets.
Unplanned Litters: Particularly with cats, owners often don't get their pets neutered soon enough. A female cat can get pregnant at four months old, which is the current recommended age for neutering & spaying. Many people 'put off' neutering and find themselves with an unwanted litter of kittens, which then end up in rescue.
Strays who weren't Snipped & Chipped: Rescue centres are forever taking in stray cats, who have clearly been owned, but are not neutered or microchipped. An Un-neutered male may wander far from home in search of a mate and become lost,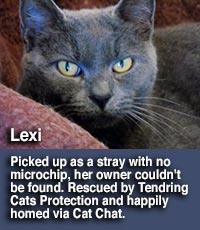 but cannot be reunited with his family as he has no microchip. From April to October (main 'kitten season') rescues across the country take in stray mums and their kittens - all because their owner didn't get them spayed.
Older Cats: The older the cat, the more likely it is to have some disruption in it's life and ended up at a rehoming centre. Often a cat will have spent years happily living with an owner, then one day they are suddenly handed in to a shelter. Many older cats need rehoming when their elderly owner has died or moved into a care home.
Abandonment: In our increasingly throwaway society pets are often surrendered - sometimes just abandoned - when they have simply become 'inconvenient'. These pets have often been bought 'on a whim' from on-line ads or pet shops, where the cost and commitment of taking on an animal for life has not been made clear. Yet another reason to rescue!
Adopting an Animal is one of the Most Rewarding things You will Ever do
Why to Avoid the 'Pet Trade'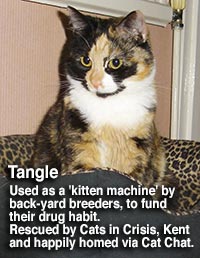 Whether it be a private seller (potentially illegal pet dealers or 'back-yard breeders'), classified pet sales ads, or a licensed breeder, it all amounts to the same thing - breeding more animals for profit, when there are already too many without homes.
Buying instead of rescuing funds more deliberate breeding, and lines the pockets of those who see animals as nothing more than a product.
If you buy an animal from the 'pet trade', three things happen:
More animals will be deliberately bred to feed the trade, funded by your money.
A rescued animal misses out on the good home they long for.
The rehoming centre remains full, so is unable to take in the next unwanted, or stray animal living on the streets.
Since 2018, when tougher licensing regulations were introduced in the UK, it has been illegal to sell puppies and kittens under the age of eight weeks. Then, in 2020 Lucy's Law came into force banning the commercial third-party sale of puppies and kittens in England, Scotland and Wales. However, there are still those who lie and cheat, flouting the laws - and it still means more litters are being bred for profit, by those who have scant regard for the animals' health or welfare.
Don't get Petfished!
The UK Government's Petfished campaign aims to inform people about deceitful pet sellers, who use underhand tactics to 'Petfish' unsuspecting buyers. These unscrupulous sellers pretend that the puppy or kitten they're selling you comes from a happy home, whereas they are mistreating animals to line their pockets.
If You Believe Animals Shouldn't be Treated as
mere 'Commodities' - Please Rescue
Pet Shops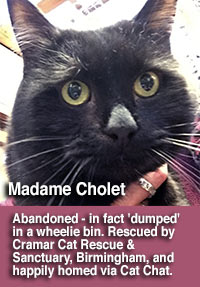 Lucy's Law: In April 2020, following years of campaigning, legislation was introduced in England banning the commercial third-party sale of puppies and kittens under six months of age. Lucy's law is now also in force in Scotland and Wales.
Lucy's Law means that anyone wanting a kitten or puppy must now adopt from a rehoming centre or buy directly from a breeder, instead of a pet shop or commercial pet dealer. Registered dog breeders are required to show puppies interacting with their mothers in their place of birth. If a business sells puppies or kittens without a licence, they could receive an unlimited fine or go to prison for up to six months.
However, at present, other animals such as rabbits and other small furries can still legally be bought from pet shops. Conditions of care in many pet shops are often far less than ideal. The fact is that pet shops are businesses, so money is their main motivator. Most pet shops will happily sell a helpless young rabbit to anyone, with no thought to whether it is going to a suitable home, or if the customer will neuter it and care for it properly. Pets bought 'on a whim' from pet shops often end up in rescue care when the owner has tired of them, or worse - simply abandoned.
Even if you have the perfect home to offer - by buying from a pet shop, you are helping to perpetuate and fund this thoughtless trade. By rescuing, you are giving a home to an animal who really needs it, and saving more animals from being born merely as 'stock' in the supply chain.
If You Don't Want to Fund Illegal Pet Dealers - Please Rescue
Breeders
No matter how many wonderful, individual animals of all kinds and ages there are in rehoming centres, we realise that some people still prefer a pedigree breed...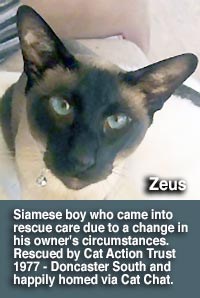 But wait! Before you think of buying from a breeder, did you know that pedigree cats and dogs also sometimes find themselves in rescue care and in need of a home? Most breed clubs have a welfare division, which finds homes for unwanted or surrendered pedigrees. There are also many rehoming organisations for specific cat breeds and dog breed rescue organisations. Sometimes you may also find pedigree breeds at your local rescue centre. So, even if you have your mind set on a particular breed, you can still rescue.
BEWARE! Back-Yard Breeders & Con Artists
Sadly, when it comes to pedigree or 'purebred' animals, there are many frauds and back-yard breeders trying to con you out of hundreds, sometimes thousands of pounds. Masquerading as reputable breeders, these con artists can be very believable, but are often just fronts for illegal kitten and puppy farms, with deplorable animal welfare conditions. Before considering buying a pet, visit the UK Government's Petfished campaign to find out how deceitful sellers operate, and how you can avoid them. Don't get Petfished!
If you must have a pedigree pet, it's safer to contact the breed-specific rescue organisations. If they have no animals meeting your criteria when you enquire, you can ask to be put on their waiting list.
How to Spot the Con Artist
Ask to see their breeder registration documents. If they won't - walk away.
Is there a legally binding contract, which includes a neutering agreement, and a clause to state that if you are no longer able to care for the animal, that it must be returned to them? If there is no contract - walk away.
Can you visit the kittens / puppies before buying, to see them at home, with their mother? If not - walk away.
A responsible breeder will keep kittens or puppies with mum until at least 10 weeks old to ensure they are fully weaned and socialised. If they say the animal is ready to leave mum at under 8 weeks old - walk away.
Even the most responsible breeder adds to the pet over-population crisis, and uses up good homes that shelter animals would have loved. Also, some pedigree breeds develop distressing, sometimes life-threatening health problems due to selective breeding, so buying a pedigree pet continues this cycle of misery. Please also be aware that some breeds have specific needs regarding their care and environment, so make sure you research this first, and then please rescue!
If You Believe that EVERY Animal Deserves a Good Home - Please Rescue
On-Line Pet Sales & Classified Ads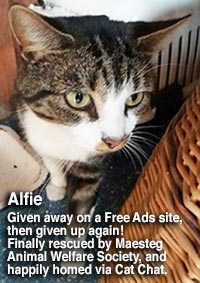 Buying a pet on-line or from classified ads is fraught with dangers - both for you and the animal. Classified ads websites, on-line auction sites and newspapers often include a 'pets sales' section in all good faith that people will be offering friendly, healthy, animals from genuine homes. But these places are littered (pun intended) with scammers and animal abusers, peddling unfortunate pets to the unwary public. Sometimes the animal has undisclosed health issues, or behavioural problems. These ads are are often used by illegal 'back-yard' breeders or kitten/puppy farms, to make a quick profit – at the expense of the animals. Don't get Petfished!
Lucy's Law: This landmark legislation banning the commercial third-party sale of puppies and kittens is now in force in England, Scotland and Wales. Lucy's Law means that anyone wanting a kitten or puppy aged under six months must now adopt from a rehoming centre or buy directly from a registered breeder. So, now if someone is selling puppies or kittens without a licence, they are breaking the law and could go to prison for up to six months.
Some scammers will even try to sell you an animal that doesn't exist! Check out this article from Action Fraud: Paws for thought
On-line ads are often placed by unscrupulous individuals using their female cat or dog purely to produce kittens or puppies to be sold for profit. They deliberately ensure that the animal gets pregnant time and again to produce as many litters as possible, until she is worn out. This is completely unfair to the mum, whose health can suffer terribly. Such sales are now illegal under Lucy's Law.
All too often, pets sold through classified ads are under 8 weeks old, and not properly weaned or socialised. This can lead to both health and behavioural problems, and there is no back-up or support later, as you would get with a rescue centre. Buying pets from the Classifieds or private on-line sales just perpetuates this uncaring trade in animals.
To Protect more Animals from Abuse and Exploitation - Please Rescue
Ready to Rescue?
Cats & Kittens - Cat Rescue & Rehoming Centres Directory (UK & Ireland)
Cats & Kittens - See Cats & Kittens for adoption near you (UK & Ireland)
Cats (specific breeds) - Breed Specific Cat Rescue organisations (UK & Ireland)
Dogs - Dog Rescue organisations A - Z by breed (links)
Rabbits - Rabbit & Guinea Pig rescue organisations (links)
Other Animals - A - Z of Animal rescue organisations (links)
#AdoptDontShop