Shelters and rescue groups often contact us to say how Cat Chat has helped with their homing. We also hear from people who have adopted a cat after seeing them on Cat Chat. There are so many happy homings that we never even find out about, so we really appreciate it when people take the time to let us know - Thank You!
Below are a small selection of the lovely comments we have received...
Testimonials - from Rescue and Rehoming Shelters »
Testimonials - from Members of the Public »
---
What Rescue Shelters say about Cat Chat...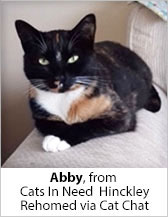 Your website is simply the best in targeting right audience - responsible and loving people who take cats care seriously.
Sophie's Cats Home, Birmingham
We have had such a productive relationship with you and are so grateful for all the 5 star homes that you have sent our way.
Mitzi's Kitty Corner, Totnes

Thank you for all you do, as a small, relatively new rescue I think we would struggle to home cats as quickly without your help.
Canny Cats Rescue, Hexham

CatChat has helped enormously in finding homes for our foster cats since this rescue began. Please keep up the excellent work that you do, it makes such a difference.
A Purrfect Friend, Preston

Thank you to you and your wonderful team again this year for all of your support to help us with our homings. Thanks to Cat Chat all of our long staying cats have been re homed.
Thanet Cat Club, Broadstairs, Kent
You have truly been an incredible help to us. We can't afford a website, so having our cats feature on CatChat makes rehoming possible. We have a Facebook page, but CatChat adopters are always much more professional, whereas the Facebook ones are hardly ever up to our standard. I think easily half of our cats have found their homes through you. Thank you so much for this!
Bushy Tail Cat Aid, Watford
---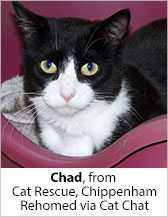 We cannot thank CatChat enough for their help advertising our cats. We get a lot of interest via yourselves!
RSPCA Macclesfield, South East Cheshire & Buxton

Many thanks for for all your help generally, along with that of each and every one of your amazing colleagues. You all show such patience, dedication and thoughtfulness all the time, on every single occasion, and are always so helpful in every single way. The service you provide for us all is outstanding, and is very much appreciated. Sincere thanks.
Lancashire Paws Cat Rescue

Many thanks for your continued assistance. I only use your website to home our rescue cats and kittens. Cat Chat is the best website to attract good potential adopters. All my best adopters are sourced via Cat Chat. Many, many thanks.
Star Cat Rescue, Market Rasen

At the moment we have rehomed all our cats thanks to cat chat. I might add we had an amazing response through your website; I'm sure it won't be long til we start adding more cats.
Hollyview Animal Sanctuary, East Sussex

It is thanks to you that cats like Buster (elderly and FIV positive) have the chance of a loving future.
Yorkshire Animal Shelter, Leeds

We get a lot of enquiries via Catchat and have homed many cats because of this. Thank you so much for the amazing job your website does in promoting adoption.
Cat Rescue West Wales
---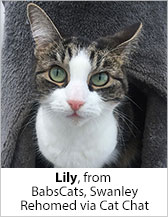 Thank you to Cat Chat for featuring our most passed by cat on the overlooked section. Without your help she would probably still be waiting for adoption.
Independent Cat Rescue, Dewsbury, W. Yorkshire

As a small rescue, it's great to have a safe platform to advertise my gorgeous foster cats. I just wanted to let you know the massive difference this has made. I've already recommended Cat Chat to other fantastic small rescues.
Sherman's Rescue, Peterborough

Most of our rehomings come from Cat Chat as so many cat people look at it. One person came 60 miles to visit us and take a cat because of this site, thank you Cat Chat.
Maesteg Animal Welfare Society

Thank you so much yet again for your fantastic website. We get more homes due to the site than we ever did with newspaper adverts.
Cat Action Trust 77, Ayrshire

We rehomed 94 cats last year all as a result of Cat Chat. We have a Facebook page, but it doesn't yield any homes. The people who are serious about looking for a new pet, go to Cat Chat.
Grendon Cat Shelter, Warks
---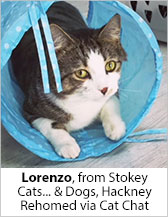 Thank you Cat Chat. Our cats would not have found their forever homes without your help.
Rugeley Cats Society, Staffs

Cat Chat is a lifeline for thousands of cats each year. You are probably the single most important resource for all things cats. I would say that most of the calls Feline Friends London receives come to us via Cat Chat. We simply couldn't do what we do without the valuable resource you provide.
Feline Friends London

I would like to say thank you for all your hard work, we do have a lot of enquiries form cat chat and have rehomed a few cats from people who have seen them on your site.
Royston Animal Welfare
Thank you so much, we have had so many lovely homes through Cat Chat, I really do not know what we would do without you.
All Animal Rescue
---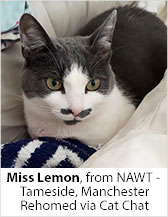 Bonnie and Bella Lottie, Charlie and Leo and Lolly have all found new homes. Thank you for all you do at Cat Chat, what would we do without you?
Little Cottage Rescue, Luton

We've rehomed 12 cats from our Cat Chat page since opening it a few weeks ago, which is phenomenal! We've also rehomed some that weren't on the site, even older cats too – wow!
Newbridge Cat Rescue & Rehoming Centre, Worcs

Another very successful month for City Cat Shelter on Cat Chat, including three kittens who all went to a new home together! Cat Chat is proving to be a great way to advertise our cats.
City Cat Shelter, Brighton.

We have a great month of homing our kittens thanks to them being spotted on Catchat. We would be at a loss without your website. Long may Catchat reign.
Cat Homing & Rescue (CHAR), Warrington

Catchat is the best thing to happen to this small group of volunteers in a long, long time. Sooty has just trotted off to her new home on her 3 legs. Many thanks for all your support.
RSPCA Durham & District

Most of the cats we put on Cat Chat get homes through your site. We so appreciate all your help. It's a wonderful help to our small charity.
Cat Action Trust (1977), East Kilbride

Thank you so much for supporting various charities and giving them a helping hand. We cover a very sparsely populated area, but a large one all the same. Sometimes we feel we're battling the world alone up here, but you've given us a lift.
Stranraer & District Cats Protection
---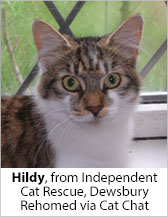 Caring Animal Rescue are very grateful for the coverage they get from Cat Chat as 90%, if not more, of their cats are re-homed as a result of people visiting your pages.
Caring Animal Rescue, Staffordshire

We've had enquiries from such nice people through our Chat Chat presence, and have now rehomed four out of six cats this way.
Cavan Vets, Oxley, Wolverhampton
We are averaging an extra 6 homed cats per month solely through Cat Chat which is remarkable and are always eternally grateful for your site. The difference it has made to our rescue is immense and we have also found some fab volunteers through our ads.
Willows Cat Adoption Centre, South Shields

Hello Cat Chat. We are delighted to report that a pair of kittens were homed via Cat Chat, just minutes after I had loaded their photo on to your website! You're doing a great service to homeless cats. Thank you!
RSPCA Stort Valley

Thank you for doing a terrific job, the responses we have had since joining your pages has been outstanding!
Tails Animal Rescue, Cheshire
---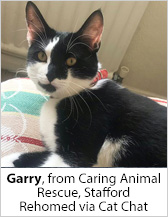 Within ten days of our site going 'live' we have homed all three pussies in our care to wonderful homes. They had been in our care for several months and we are so grateful to Cat Chat for the publicity. We are astounded at the number of enquiries the site has generated. We appreciate all you do in helping to home cats in rescues. We couldn't do it without you.
Burton-Upon-Stather Cat Rescue, Lincs

Thanks to your site as always, the enquiries are rolling in and the cats are rolling out. I haven't even had time to advertise some of them before people are calling up and asking about the cats and kittens we have available, it's incredible! Thank you again for your efforts, onwards and upwards and long may it continue… Happy Days!
Pawz for Thought, Sunderland

Your website really, really helps us to home our cats - about half of the cats and kittens we home every year are homed through Cat Chat. So probably you help us to home about 150 cats and kittens a year, so many thanks for your help.
Cat Action Trust, Lanarkshire branch

Goodness knows what we would do without you!! We have found some wonderful homes through Cat Chat. Please keep up the great work you do, not just for all us at the rescues but much more importantly for all the wonderful babies we can help. YOU LOT ARE GREAT!!!
London Cat Rescue, N8
Thank you for your ongoing support and help with our Cat Chat page. I often tell people about your site and how useful it is with rehoming, advice, information and so much more! It really is invaluable. Thank you again to all your team.
S.A.R.A. (Saving and Rehoming Animals), North Yorks
If cat chat has helped your shelter, we'd love to know! Email: This email address is being protected from spambots. You need JavaScript enabled to view it.
---
What Members of the Public say about Cat Chat...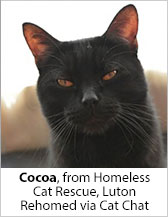 Thank you for your website we would not have found our 2 amazing cats without you. Louise & Andy

I wanted one cat and found her through Cat Chat... and ended up with two extra cats as well, from the same shelter. You make such a difference to lives. x Michelle
I'd like to give everyone at Cat Chat a massive thank you, not only for the amazing work you do, but also because I'd never have had Meg in my life without you. Thank you again. Dan

My two newly adopted kitties are having a great life here. It is so good to see them enjoying themselves and getting more and more confident. So thank YOU Cat Chat, without your web site I would not have found them. You do a great job. Caroline
Hi Cat Chat! We have recently adopted Lynx. She had been at the rescue centre for 2 years, we cannot imagine why as she is simply adorable. Thanks Cat Chat, we wouldn't have found her without you! The Hodsons, Notts.
Hello Cat Chat. A big thank you for the advice provided on your website. Your site has given me all of the info I need about FIV - especially about life-span and cross-infection. Your website has made such a difference, very high quality information. Thank you, Bob M.
---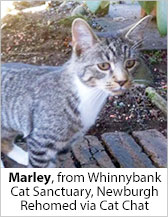 Megan, had been at a shelter through no fault of her own for two years. Her new owners said "She is a ball of delight on legs and plays with everything, purring all the time. Your site does a lot of good, anything that makes it easier and quicker to home cats is a very positive thing. So we are a happy family now and we send our love, headbumps and Best Wishes." Tom, Megan and Estelle

Hi Cat Chat, I have recently adopted the most gorgeous little girl which I found on Cat Chat - she was advertised by Burton Joyce Cat Welfare in Nottingham. She is a wonderful addition to my other three rescue kits. What a brilliant site Cat Chat is, there are so many lovely cats being adopted through it - Well done! Maggie
Hello Cat Chat, I just wanted to say thank you. I have recently rehomed a cat via your pages through the Manchester and Salford RSPCA called Hayley. She's a lovely addition to our family. Thank you again! Carol x
I just wanted to say a heartfelt thank you to all the volunteers at Cat Chat for putting in the time and effort to run such a valuable charity. I have just joined the Friends scheme, but wanted to take the time in addition to say thank you to everyone behind the scenes who give their time and effort to make Cat Chat work. You are making so much difference to the lives of cats everywhere, and to their owners (which has to be the wrong word for someone living with a cat, surely! But I couldn't think of another one). With love and thanks, Sue
I really want to thank you for an excellent site which lead me to one of the rescues listed. Our new kitten Rio had a very tough start and you can tell just how much handling love and attention he has been given by the fosterer. Rio is a complete bundle of joy, very affectionate and loving and thanks to your site now has a very happy family. Many thanks for all the excellent work you do. Kim, the Wirral
---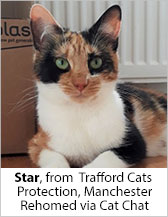 Hi, I wanted to take a minute to say I think what you are doing is amazing. Your website not only gives people a chance to get to know more about cats looking for adoption and more about their 'story' but you actively address the things that stop certain kinds of cats from ever finding a home - old cats, pairs, nervous cats... And the 'homed' pages are so heart-warming :) You are giving every single cat shown an enormous chance they would probably never have had. The more people that know a cat is there, the more likely they are of finding the perfect match. I'm sure you have heard all of this a million times but thank you for doing what you do! Best regards, Laila

Thanks to your site, in the past 3 weeks we have found 3 beautiful new cats, that are bringing joy to our life after the death of our beloved cat recently. Thank you for such a wonderful site. Lisa, and cats: Max, Meg and Ruby

Hi, I am writing to let you know that my wife and I have rehomed penny from Freshfields Animal Rescue Centre, Caernarfon, thanks to your site we now have another lovely cat, many thanks. Mr. & Mrs Bailey
Hi Cat Chat, Last September I rescued two kittens from Cat and Kitten Rescue in Watford, who I found through Cat Chat. Without this website, I doubt if I would have known of their existence. Abi and Pepper are growing into fabulous cats who are much loved, and along with my Birman cat, they are all best of friends. I can't thank Cat Chat enough. I still look on the site often - still hoping to persuade my husband to let us rescue cat number four!!! Best wishes, Lorraine
Hi i just wanted to say thank you for the fantastic service you offer its wonderful. I was lucky enough to spot tulip here who was at the Yorkshire animal home, and she is a joy to have around, a really loving cat. Thanks and best wishes, Emma
---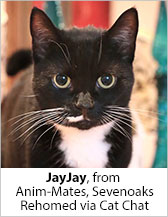 Dear Cat Chat, Thanks to your website I now have a beautiful Ginger Tom called Colin who is now 13 weeks old. He is adorable and purrs all the time even if he just sees me! He loves all our children and gets carried around by my 5 year old son as though he was a baby. He is in his element! Thank you and I hope you continue the good work. Many thanks, Joanna

Just a quick but sincere thank you for your wonderful web site. I lost my 15 year old cat a few weeks ago and found your site whilst browsing for cat related web sites. I saw the most gorgeous boy called Dermot and he is now the newest member of our family and we love him to bits. So thank you again for your superb site and for helping me to find such a wonderful addition to our family. Kindest regards, Shona and Dermot, xxx

I recently adopted a rescue cat after browsing your pages, and wanted to thank you for bringing together all the different cat rescues - it's so much easier for us visitors! Ms. J Turner, Hereford
Can I just say what a delight Cat Chat is. I have recently re-discovered it and it is better than ever. I can't thank you enough for brightening my days this last week. Plus because of your site we are adopting 2 kitties aged 6 and 7, we collect them next week. Keep up the good work. Niki
Thank you for providing somewhere for people to find rescue cats. Our new furry friend arrived today from Watford Cat & Kitten rescue and is settling in well. Thanks again!! Claire
Hi, Just to let you know we adopted "One Eyed Jack" from Manchester & Salford RSPCA after finding him on your website. As soon as I saw him I rang my Hubby and we went to see him. He has fallen in love with our cat Lucky. He is lovely - he can't half eat though!! Alison G
If cat chat has helped you, we'd love to know! Email: This email address is being protected from spambots. You need JavaScript enabled to view it.
---