If you run a Cat Rescue Centre or Rehoming Group in the UK or Ireland - Cat Chat can help you!
We offer free 'virtual cat shelters' and web-based assistance to cat rescue centres and rehoming groups, to help find more good homes for cats in shelter care. We can also help vets practices with cats to rehome.
FREE HELP for Cat Shelters...
Free Listing on our Shelter Pages


Cat Chat's Cat Rescue Centre Listings are the most comprehensive on the web. A listing will bring more homing enquiries your way, and give additional publicity to your shelter. To get listed, or to update your listing go here: Shelter Listings Form
Free Cat Homing Web Page


If your shelter has cats needing homes, then you need a free Cat Chat Homing Page! This is your very own page on Cat Chat, plus your cats will then be featured on our regionally-targeted 'Cats Needing Homes' section. Easy to use, you just post details and photos of your cats needing homes to your page (no website knowledge needed), and wait for the homing offers to come in. Free Cat Homing Web Page
Free Help for 'Overlooked' Cats
Shelters with a free Cat Chat Homing Page can also use our Overlooked Cats section to give extra help to long-stay or harder-to-home cats. Cats featured on your page for more than 5 months are automatically added to the Overlooked section. You can also request other cats on your page to be featured on Overlooked Cats, if for example they have already been at your rescue for over five months, or if they are harder-to-home for any reason; just email us at: This email address is being protected from spambots. You need JavaScript enabled to view it.. If you don't yet have a page, apply for a Homing Page now, and ask us to put your three longest-stay cats on the Overlooked Cats section.

Extra Help for Shelters with a Cat Chat Homing Page

Cat Homing Pages - Login:
Shelters - log into your Cat Homing Page using the LOGIN button here »
Cat Homing Pages - Need Help Managing your Page? The 'Help & Tips' section within the admin area of your page contains easy, step-by-step guides for managing your page, ie adding a cat, editing details, uploading photos etc. Or, for further help, email our Help Team who will be pleased to assist: This email address is being protected from spambots. You need JavaScript enabled to view it..

Cat Homing Pages - Need Help Adding a Cat? If you would like us to add a cat to your page for you, use our Submit a Cat form, to send us details and a photo of the cat(s) you would like adding to your page. Click the button to go to our Submit a Cat form »
Cat Homing Pages - Short Page Address: We also offer Short Page Addresses, in this style: www.catchat.org/sheltername linking to your Cat Chat Homing Page. Short links help greatly when you want to publicise your page (on emails, Facebook, Twitter, newsletters etc.) and is easier for people to remember. If that would help you, email This email address is being protected from spambots. You need JavaScript enabled to view it. stating what you would like your Short Page Address to be.
Cat Homing Pages - Top 10 Tips: Tips to get the BEST homing results from your Cat Chat Homing Page » Top 10 Homing Page Tips. Also read our blog post with Top Tips from a professional cat photographer, to help you get the best photos of your cats » How to Take Great Cat Photos
'Overlooked' Cats?: If a cat on your Homing Page needs extra help finding a home, ask us to put them on our 'Overlooked Cats' section to help bring in more homing enquiries. Overlooked Cats also get a slot on the main Cat Chat Homepage. Just email: This email address is being protected from spambots. You need JavaScript enabled to view it. stating the name of your shelter, and which cat(s) on your Homing Page needs to go onto the 'Overloooked Cats' section.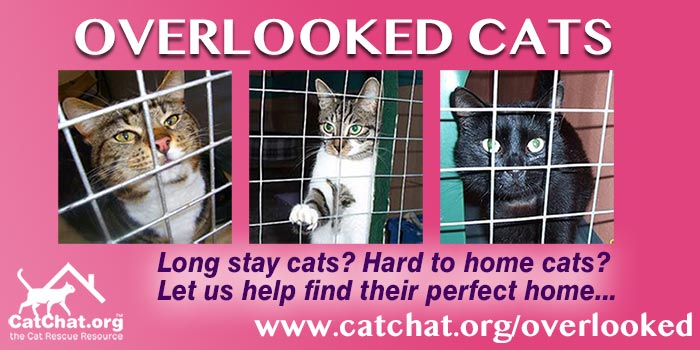 Homing Successes - feature on our Roll of Honour': When your shelter rehomes a cat or cats through Cat Chat, please let us know! Your feedback really helps us, and the cats on our 'Rehoming Roll of Honour' encourages more people to adopt a rescue cat! Email us with your Cat Chat succeses here: This email address is being protected from spambots. You need JavaScript enabled to view it.
---
Other Useful Links for Shelters
Amazon Wish Lists: Enabling people to donate items to your organisation: www.amazon.co.uk/create-wishlist
Book Recycling: A book collection and recycling service for charities: www.worldofbooks.com
Business Support: Free business support for animal charities: www.charitybuddy.org
Cat Friendly Homing: International Cat Care's programme for rehoming centres, promoting cat friendly solutions for stray, abandoned and pet cats. Visit: About Cat Friendly Homing and Becoming a Cat Friendly Homing Centre
Cat Socialisation Idea: Help children practice reading, while providing socialisation for rescue cats. This US-based scheme explains how it can work: www.berksarl.org/bookbuddies
Cheap (new) stuff for Charities: Everything from pet food to PC's: www.inkinddirect.org
Easyfundraising: Free donations; no catch! When your supporters shop on-line at over 4,200 trusted shops and service providers, you receive a donation from the retailer at no cost to the shopper. Please use our Easyfundraising Referral link to join, thank you!
Feral / Community Cats: International Cat Care's free, high quality advice & information resource for those working with unowned cats: Cat Friendly Solutions for Unowned Cats.
Free Furniture & Equipment: Surplus furniture & equipment donated by UK businesses: www.collecteco.co.uk
Free Stuff for Charities: Free stuff for Charities donated by businesses across the UK: www.globechain.co.uk
Fundraising Websites: (Charity Excellence Framework) www.charityexcellence.co.uk/Home/FundingFindersResources
Fundraising Ideas: A wealth of fundraising ideas: www.better-fundraising-ideas.com
Grants (Battersea Grants): helping organisations, large and small, who care for cats or dogs: www.battersea.org.uk/battersea-grants
Grants (Jean Sainsbury Animal Welfare Trust): helping animal charities: www.jeansainsburyanimalwelfare.org.uk
Grants (Petplan Charitable Trust): supporting animal health & welfare: www.petplancharitabletrust.org.uk
Grants (Pets at Home Foundation): grants for UK rescue centres: www.petsathomefoundation.co.uk/grant-programme
Grants (Wetnose Animal Aid): help for small UK rescue centres: www.wetnoseanimalaid.com
Kittens - Hand-Rearing Guide: 'Bottlekatz' - a comprehensive guide: www.lulu.com/bottlekatz
Legal Advice: Free, professional legal help for charities and non-profits: www.lawworks.org.uk
Recycling for Good Causes: Raise money through recycling: www.recyclingforgoodcauses.org
Veterinary / Medical help: Worldwide Veterinary Service (WWVS) offers volunteer veterinary help, medical equipment and advice to animal charities in the UK and abroad: www.wvs.org.uk
Volunteer Help (Transport & Fostering): Animal Lifeline UK - Volunteers UK wide helping animal rescue organisations: facebook.com/animallifelineuk
Volunteer Help (Transport & Home Checking): The Animal Team - Volunteers UK wide helping animal rescue organisations: www.theanimalteam.org
---
Cat Chat's Coverage Area
Cat Chat's remit as a charity is to support rescue centres and cats within our registered coverage area of the UK and Ireland. Therefore we are unable to assist organisations based outside of the UK or Ireland, or organisations based in the UK or Ireland, whose main or sole purpose is to import animals from overseas.
---