Meet International Cat Care introduced by Vicky Halls, acclaimed author and cat behaviourist.
As Manager of iCatCare's Cat Friendly Homing project, Vicky is at the heart of this remarkable charity which each year touches the lives of 25 million cats across the world.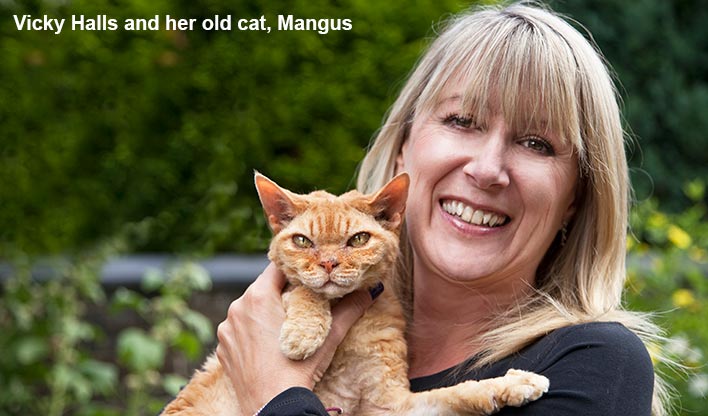 Cat Chat is delighted to welcome Vicky whose article below brings a fascinating insight into the background of International Cat Care, a unique cat charity, based in the UK but with a worldwide remit. iCatCare and Cat Chat share the same principles as we both seek the best outcome for every cat, and with Cat Chat having a particular affinity with Vicky's special Cat Friendly Homing project. In turn Vicky has recently connected with Cat Chat by kindly supporting our highly successful 2020 rehoming campaign. Read on to find out more about iCatCare and why Vicky is now dedicated to helping their cause…

I have been working with cats since 1988, first with the RSPCA and then subsequently as a veterinary nurse. However, the majority of my career to date has been working as a clinical behaviourist (or pet behaviour counsellor) seeing cats with 'problem behaviour' that are referred to me by vets. I have also had the privilege of writing, over the years, 8 books for cat owners and various publications for the veterinary profession. In 2019 I closed my practice after 22 years to work for a charity I had supported and admired for many years. Let me tell you their story…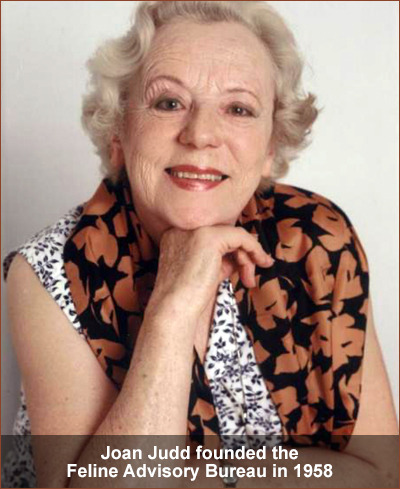 International Cat Care is a charity that was established in 1958. Initially called the Feline Advisory Bureau (FAB) it exists because one woman, Joan Judd cared enough about cats to question conventional wisdom in the veterinary field. Up to this time relatively little of value was known about cat diseases. Dog medicines were administered to cats with disastrous results. Veterinary surgeons interested in cat disease were not easy to locate, feline medicine was greatly neglected and little research was carried out.
Joan believed that an organisation should be set up to deal with feline care which could also form a platform for the exchange of information and veterinary medical studies. During the next 28 years, the charity funded FAB Scholars, both generating and distributing huge amounts of information on cat health and welfare to other vets, and through them, to cat owners. The aim of the Scholarship was to produce feline 'specialists' and more 'cat-orientated' vets, as well as to investigate feline diseases and disseminate this information.
It wasn't just in the investigation of feline diseases that FAB was ahead of its time; it also led the way on other health and welfare issues. As early as the 1960s, FAB was advising neutering at around 4 months of age – the same recommendations other animal welfare organisations began to advocate, over 50 years later! Also in the 1960s, the Bureau was educating vets on handling cats with gentleness and not picking them up by the scruff. In 1967 FAB declared itself 'utterly opposed to declawing' and convinced the Governing Council of Cat Fancy (GCCF) to amend show rules so no cat which had been declawed could be shown. And even from its very early days, despite its close links with breeders, the charity was outspoken about breeding cats with inherited problems or for looks based on genetic abnormalities.
Another major achievement of FAB was its work on boarding catteries. In 1964 it set up its own boarding cattery inspection scheme and gave approval to catteries which they felt were built and run properly. In 1967 FAB's Boarding Cattery Information Service was started and a manual on management was developed.
In the second part of the 1990s, the charity's first website was developed, and all the information which had been available simply as printed advice sheets (which had to be sent out by post) became freely available to the world. It was at this time, that Claire Bessant who had been editing the FAB Journal for several years, took on the position of chief executive. Since then it has been onwards and upwards for the charity, launching its veterinary division the European Society of Feline Medicine (ESFM) – which soon became the International Society of Feline Medicine (ISFM) – and its veterinary journal, the Journal of Feline Medicine and Surgery. It formed The Cat Group, a coalition of charities and other organisations that work with cats, in order to work collaboratively on a number of issues.
In the new millennium, it held its first European conference on feline medicine, which is now run annually, as well as more recently an annual conference in Asia-Pacific. The 'Cat Friendly Clinic' programme was launched, to help reduce the stressfulness of visiting the vets for both cats and owners. The charity also began to fund international feline welfare and veterinary training projects all over the world and created a 'Cat Welfare Award' to acknowledge international efforts to bring a cohesive approach to cat welfare.
In 2010 FAB launched distance education courses for veterinary nurses – the portfolio of courses now includes ones specifically for the veterinary profession, those working in the unowned cat sector, behaviourists and other feline-care professionals and cat owners. In 2013, FAB was rebranded as International Cat Care (iCatCare), in light of its role in feline medicine and welfare all over the world. Joan Judd, the charity's founder and by then over 90 years old, was very supportive of this change, saying that this was how she imagined the charity could progress all those years ago. She died later that year.
In 2020, the most challenging of years globally, the small team of staff adapted and had their first virtual veterinary conference which attracted 12,500 delegates from 157 countries. Also in 2020, iCatCare launched Cat Friendly Solutions for Unowned Cats, the project dear to my heart and the one that Claire Bessant and I first started planning in 2011. This particular project is receiving very positive feedback from many different countries looking for accessible and practical information. I was offered the opportunity to join the iCatCare team and continue to develop the project - how could I refuse?
So, as an organisation, iCatCare is small, but we have always had big ambitions when it comes to cat welfare and our track record speaks volumes about what can be achieved! What I have described here is only the tip of the iceberg when considering the impact of the charity over its 63 year history. It was recently estimated that the charity touches the lives of over 25 million cats worldwide annually.
The most effective way we can continue to help millions of cats in this way is to engage with and empower those who work directly with them. We believe in collaboration between organisations and groups, as working together we can achieve much more. I haven't forgotten my career in cat behaviour and I am grateful to all the wonderful cat owners I met who have taught me so much. Everything I have learned I bring to this project – a big thank you to Mandy and the wonderful team at Cat Chat for letting me introduce you to International Cat Care! I am a great supporter of Cat Chat and hope to be involved in future campaigns.

Further Reading
ICatCare Website
ICatCare Facebook Page
ICatCare Veterinary Division Facebook Page
Conferences
Cat Friendly Clinic
Distance Education Courses
Cat Friendly Solutions for Unowned Cats
Contributor: Vicky Halls, International Cat Care Project Manager - Cat Friendly Homing
Published: June 2021