---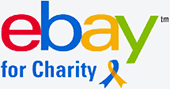 Choose Cat Chat as a 'Favourite' charity

Donate a percentage to Cat Chat when you sell on eBay

Check out eBay auctions benefitting Cat Chat


---
There are 3 ways to Support Cat Chat through eBay...
---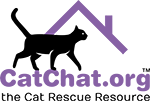 1. Choose us as a "Favourite" Charity on your eBay account...
Visit Cat Chat's eBay Page and click the 'Add to My Favourites' button.
This will enable you to make an optional donation every time you buy or sell on eBay, helping to rehome more homeless cats, whilst doing what you do every day on eBay!
Or Alternatively, use eBay's Charity search page - just put 'Cat Chat' into the 'Find causes worth supporting' search bar and click 'Save as a Favourite'.
---
2. Sell on eBay and Donate a Percentage of your Profit...
Added Bonuses of Selling on eBay for Charity...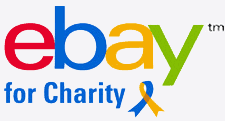 Charity Ribbon: eBay for Charity listings are marked with the distinctive yellow and blue Charity Ribbon, attracting extra customers!
Earn fee credits: Every time you list an item for charity, you'll get a fee credit on your basic insertion and final value fees equal to the percentage you donate. So if you donate 50% of your selling price to a charity, eBay will waive 50% of your fees.
Our Logo on your listing!: The Cat Chat logo and our Mission Statement will automatically appear on any listings benefitting us, helping to further promoting your auction.
Easy to Manage: Donations are easily managed from within your eBay account, and you can donate using the payment method you have on file with eBay (e.g. PayPal, Credit Card, Direct Debit)
The 1-2-3 of eBaying for charity...
Sign in to your eBay account, go to the 'Sell' hub and select 'Advanced Sell'.
As you're filling out the details, look out for the charity box just below where you set your price. Select a charity to support and the percentage (10%-100%) of your final selling price that you'd like to donate.
A week after your item sells, Paypal Giving Fund (eBay's Charity Partner) will automatically collect the donation from you. You can also manage your donations through the 'My Donations' section of My eBay, under the My Account tab. Any fee credits will appear on your next invoice.

More about eBaying for Charity here: More about eBaying for Charity
Don't forget Gift Aid...
Gift Aid is one of the easiest ways to make your donation tax effective. If you are a UK taxpayer, Gift Aid means that for every pound you give, Cat Chat will receive an extra 25p from HMRC.
Simply tick the Gift Aid box when you first list an item for charity. Paypal Giving Fund (eBay's Charity Partner) then collects the Gift Aid from the government and pass it on to your chosen Charity.
Note: you must pay an amount of income tax and/or capital gains tax equal to the tax that all the charities you donate to will reclaim from HMRC in the current tax year - currently 25p in the pound.
---
3. Check out listings supporting Cat Chat when you buy on eBay...
Current eBay listings helping Cat Chat: Current eBay listings benefitting Cat Chat
Questions? All your eBay for Charity queries answered here: pages.ebay.co.uk/ebayforcharity
---

---
PURRS to all who support Cat Chat through eBay!
---