---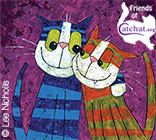 Currently over 8,000 rescued cats from rescue centres and rehoming groups across the UK and Ireland, find homes each year through the Cat Chat website.
Our Friends of Cat Chat supporters scheme is vital to ensure the 'Rehoming Lifeline' that we offer, free of charge, to shelters.
YOU can help us - by becoming a Friend of Cat Chat!
Join for just £10.00 • Welcome Gift • Monthly News Updates • Prize Draw Entry
Friends of Cat Chat - benefits
Exclusive 'Welcome Gift' of your choice (below) when joining
Automatic entry into our exclusive, quarterly 'Friends' prize draws
New Friends receive an 'Adopt a Rescue Cat' car/window sticker (right)
Monthly e-News Updates (you may unsubscribe from these at anytime)
Annual membership of just £10, and most importantly...
The knowledge that YOU are helping more cats to find a home of their own!
See below for details of our Current Prize Draw...
---
Your choice of Welcome Gift: Die-cast metal badge • Bookmark • Drinks Coaster • Certificate

Plus - all Friends of Cat Chat @ 31st December 2017 will be entered into our Friends Prize Draw, below:
---
Next Prize Draw - 31st December 2017
Our quarterly Prize Draws are exclusive to Friends of Cat Chat. Join today, and help more cats out of shelters into homes, and you will be entered into each of our quarterly draws over the next year!
2 x Prizes: Two prizes up for grabs, of a stylish, black 'Please Rescue' cotton tote bag. Designed exclusively for Cat Chat, these lightweight yet strong bags can be folded up and kept in your handbag. Our cotton bags are an eco-friendly way to shop, whilst also spreading the 'rescue' message. (These and more bags, plus a range of other items for cats and cat lovers are also available to buy on the Cat Chat Webshop)
All Friends of Cat Chat as at 31.12.17 will be entered into the draw. Join today for your chance to win. Winners will be announced on this page on 1st January 2018. Good Luck!
Help More Cats out of Shelters into Homes - become a Friend today...
NEW Friends of Cat Chat - Join Here!
Membership of our Friends scheme is just £10.00 per year (although you may make an additional, optional donation if you wish). Payment is made securely via Paypal or Credit/Debit card via our webshop, by clicking the button below. Please Note: you do not need to create an account on our web shop to join Friends of Cat Chat - just select 'Guest Checkout' when making your donation.

---
Other Ways to Join...

Join by Standing Order: Setting up a standing order for your Friends of Cat Chat membership, will save you having to renew in future years, and is easier for us too. Here's how...
(1) Complete a Friends Joining Form (PDF) - and send it to us at the address on the form.
(2) Complete a Standing Order Form (PDF) - this should be sent to your bank. Thank you!
Join by Cheque: Please download a Friends Joining Form (PDF) and post it to us together with your cheque (stirling only) made payable to 'Cat Chat', to: Cat Chat, PO Box 358, Ramsgate, Kent, CT12 6YP. If you cannot print the form, please include a note with your cheque, stating your name, address and email address, and please also state if you are a UK taxpayer and wish us to be able to reclaim the tax element of your Friends donation. Thank you!
Renewing Friends
If you are already a Friend of Cat Chat and are renewing for a further year, please go to this page: Friends Renewals
---
Credit: Image (top of page) from an original painting, 'Love You 3' by Lee Nicholls. Reproduced with kind permission.
---