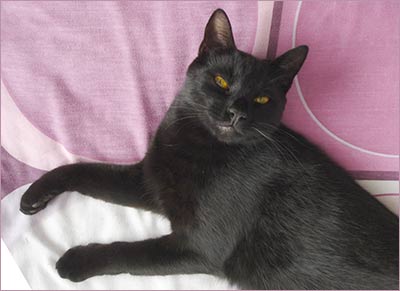 "When I found out that black cats find it hardest to get adopted I couldn't believe my whiskers (which, incidentally, are black too). Black cats are the BEST - everyone should have a black cat!
Black cats are sleek, chic and dressed to impress. Of course, our smart black coats are just a bonus, it's the cat inside that really counts. So next time you adopt a cat, ask about the cat inside the black coat, you could find a right little gem, like me!"
Yogi Cat (pictured)
("All black, except for three, lone, white hairs...!")
Top 10 Reasons to Adopt a Black Cat »
Find black cats for adoption in your area » See Cats Needing Homes
Ask about black cats at rescues near you » Cat Rehoming Centres
Did you know, Black Cats are Least Likely to be Adopted?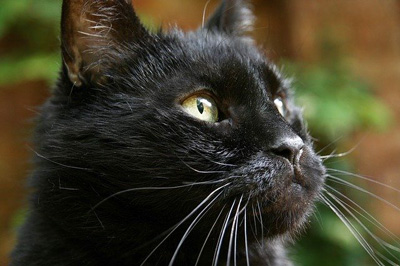 Rescue centres everywhere will confirm: Black Cats are the Hardest Colour to Home!
Through no fault of their own, black cats are overlooked time and time again, as most people tend to choose 'prettier' coloured cats. Even black kittens are left until last for adoption, while their more colourful siblings are chosen first.
The outlook for a black, adult cat in a rescue centre is therefore bleak. Black & white cats are also very often left waiting much longer than more 'colourful' cats. Some spend many months in rescue, sometimes years, waiting for someone to see past their colour to the super cat inside...
Is it Because of Superstition?
It all depends on how we think, and even where we live! Superstitions in different cultures and countries vary as to whether black cats are considered good luck or bad. The old idea of black cats being 'witches cats' may still influence some people. However, in Britain, Scotland and Japan, a black cat crossing your path, or even if you dream of a black cat, is said to bring you good luck. A black cat's presence has been credited with bringing about show-stopping performances in theatres. And, in Scotland, finding black kittens sitting in your porch is a sign of riches, and happiness to come!
One thing is certain, those who have looked 'beyond the coat' and adopted a black cat, consider themselves extremely lucky indeed!
Is it Because of Colour?
There are a few suggestions for this, such as; the black cat in a rescue centre may blend into the shadows more, making it harder to make that initial connection with them, or because black cats don't always show up as well in photographs online. Also, as most rescues are so full these days, there are inevitably a wide range of colours which people are more drawn to - whilst the black cats can seem to fade into the background, and are just passed by.
Could you look Beyond the Coat..?
Look beyond the coat, and black cats have all the charm, and charisma of their more colourful cousins. Their sleek glossy coats complement their bright shining eyes. They are stunning, regal looking animals - each one an individual. Black cats are just as wonderful as any other, with all the same needs - love and care, in a home of their own. If you enjoy the company of cats whatever their colour, please consider adopting a black cat.
For Black, Adult cats in rescue, the Outlook is Bleak... Could you look Beyond the Coat?
Our Top 10 Reasons to Adopt a Black Cat:
Black cats are the least likely to be adopted
Black cats look sleek and sophisticated
Holding a black cat is very slimming!
Black cats will match any decor
A lint brush isn't required for a black-tie affair
When you love a black cat, luck is on your side
Black cats are like onyx, a beautiful gem
They don't care what colour YOUR hair is!
Love knows no colour
Adopting a black cat may be lucky for you ... and it's definitely lucky for them!
---
If you like black cats, you share some very famous company:
Fred Astaire • Winston Churchill • Calvin Coolidge • Ernest Hemingway • Brian Eno • Frank Zappa • Ian Anderson • John Lennon & Yoko Ono • Queen Victoria • Charles I • Tom Cox • John Travolta • Edgar Allan Poe ...and many more we are sure!
Are YOU Ready to Rescue?
Could you give a black cat their lucky break? Beautiful black cats of all ages, are waiting patiently in rescue centres around the UK and Ireland for the gift of a loving home. Contact your local rescue centre, to find out which lucky black cats, or kittens, might be waiting for you, here...
"A black cat crossing your path signifies that the animal is going somewhere" - Groucho Marx