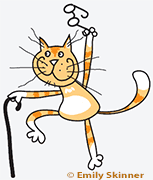 Homes Desperately Needed For 1,000's of Older Cats! Most rescue centres have many adult and senior cats, just longing for a new home. Could you adopt an older cat?
Our 'Adopt an Older Cat' campaign aims to raise awareness of the thousands of adult and senior cats in rescue shelters across the UK. Even cats as young as just 8 or 9 years get overlooked, even though these days that's just middle aged!
Their plight is even worse in summer when many people just want kittens - and all those wonderful, loving 'Senior Kittizens' are yet again left behind, waiting... and waiting...
Read our Top 10 Reasons to Adopt an Older Cat »
Find older cats for adoption in your area » See Cats Needing Homes Here
Ask about 'golden oldies' in rescues near you » Cat Rescue Centres - UK and Ireland
Just a few of the super seniors homed through the Cat Chat pages...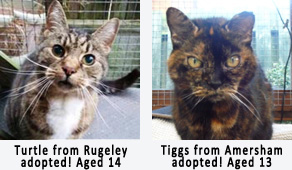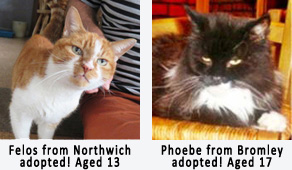 ---
The personality of an older cat is already known - making it easier to match you with the right cat!
Older Cats are generally less demanding than youngsters, and need less supervision, so if you work outside the home, an adult cat is much better able to content itself while you are out than a youngster.
Most older cats are seeking little more than a warm lap, regular food and love!
Adult cats from a rescue will be neutered, litter trained, and calmer than a youngster.
If you have an older cat already, another oldie, carefully introduced, can be less stressful for him/her than a kitten.
The older cat is less likely to catch birds and mice than a youngster, or at least much less often.
Cats regularly live into their late teens these days, so most seniors will have many years of life and love to give.
A senior puss is unlikely to leap up on your shelves and knock your ornaments off, or to climb up your curtains!
Mature Mogs are so grateful to have found a loving home again - they will repay your love ten-fold!
And last but by no means least... Senior Kittizens Rock! (between naps)

Why are there so many Adult Cats in Rescues?
Adult cats come into rescue care for a wide variety of reasons - and the older the cat, the more likely it is to have some disruption in it's life that means it has ended up at a rescue centre. Often a cat will have spent years happily living with an owner or family, then one day they are suddenly handed over to a rescue centre, for reasons that the cat will never understand.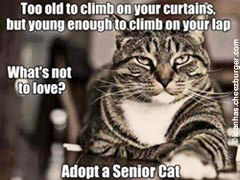 The most common reasons why adult cats come into rescue:
The owner moving to accommodation that doesn't allow pets;
The family is emigrating;
Relationship breakdowns and divorce;
The owner has died or gone into a care home;
A family member such as a child or grand-child has an allergy:
And many more reasons not of the cat's making!
You know where you are with an adult cat - what you see is what you get! Many people automatically choose a kitten, but you don't know what sort of cat they will become in adulthood, and kittens don't stay kittens for long. If you overlook the oldies, you will be missing out on some of the most special cats - and that very special cat in the shelter is missing out on the loving home they so dearly long for.
Before deciding on what kind of cat to adopt, please consider giving a home to a Mature Moggie!
Check out our Adopting an older Cat blog post about how adopting an older cat changed one couple's life. Tara and her husband were sure they didn't want any kind of responsibility. But Sheppy, a tubby, elderly tortoiseshell with a stump for a tail had very different ideas for them. Read the blog post here.
Cats often live into their late teens these days, so most older cats will have many years of life and love to give!
Puss Pension Schemes & Long Term Fostering
Some shelters offer some kind of 'Puss Pension Scheme' whereby if you adopt a cat over 10 years old, they will pay for any unforseen future vet bills. Others, such as the Cinnamon Trust, operate a system of 'long term fostering' whereby the cat is still technically owned by the rescue, but you become their long term fosterer.
Some rescue organisations may even pay for both food and vet bills if you take on a senior cat as a 'permanent fostering' basis. Ask at your local rescue centre about their Older Cat schemes.
Why go to a Rescue and Rehoming centre?
Rescue centres are first and foremost concerned with the health and wellbeing of the animal. Rehoming organisations are very careful about placing each animal in the right home, and will offer advice and support where necessary even after adoption. If for whatever reason things don't work out (such as not getting on with another pet), the rescue will take the cat back into their care. Cats from rescue centres will have been vet-checked and neutered prior to adoption, and de-flead, and de-wormed where necessary.
Rescuing an Oldie gives them a new life... and gives you a loyal, loving companion.


Did you know... When you adopt a rescue cat, you are helping TWO (or more) cats? By rescuing, you free up that shelter place for another cat in need!
SENIOR KITTIZENS ROCK! (between naps)
Buy from our exclusive Senior Kittizens range - And help us to help more Oldies find homes...

You can help us promote adopting a 'Golden Oldie', by purchasing from our exclusive 'Senior Kittizens' range. Items currently available are: Mugs, sturdy, eco-friendly Canvas Bags, lightweight Cotton Shoppers and Tea Towels, all with the slogan: "SENIOR KITTIZENS ROCK! (between naps)". Designed by us here at CatChat, with an exclusive illustration by feline artist Emily Skinner, helping to promote adopting an older cat.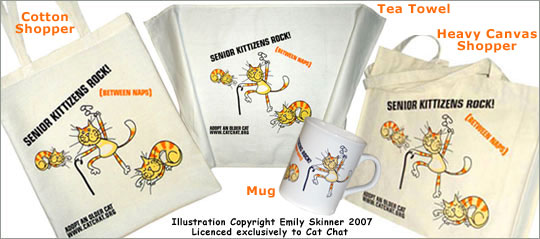 'Senior Kittizens Rock! (between naps'): Mug: £4.60 • Cotton Shoppers £3.95 • Tea Towels £3.75 • Canvas bags £5.95 • Only available from the Cat Chat Webshop
Ready to Rescue?
Adult and Senior cats needing homes in your area » See Cats Needing Homes Here
Ask about 'golden oldies' for adoption near you » Cat Rescue Centres - UK and Ireland
Older cats being 'overlooked' for adoption » Overlooked Cats for Homing
---