Love cats? Want to help when they need it most? This could be the answer...
Fostering a cat for The Cinnamon Trust gives you the love and companionship of a cat, but with 24/7 support, holiday cover and no vets fees!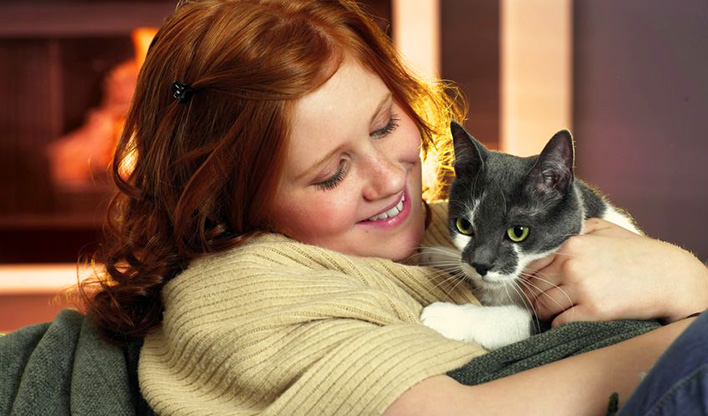 The Cinnamon Trust are on the lookout for new cat fosterers throughout the UK. We spoke to Deborah Fisher, Cat Fostering Co-ordinator for the Trust, to find out more about this hugely valuable charity and why volunteer fosterers are so vital.
What is The Cinnamon Trust?
The Cinnamon Trust is the only specialist national charity helping those in their senior years or who are terminally ill with their much loved pets.
The Trust provides support to those needing help to care for their pets, such as dog walking, shopping for cat food or cleaning out a birdcage. Such vital, practical help enables elderly owners and their pets to stay together, adding incalculably to their quality of life.
Founded in 1985 by Mrs Averil Jarvis, the Trust currently has over 20,000 volunteers, and in 2020 alone they helped 154,000 people with 156,000 pets!
Why does The Cinnamon Trust need Fosterers?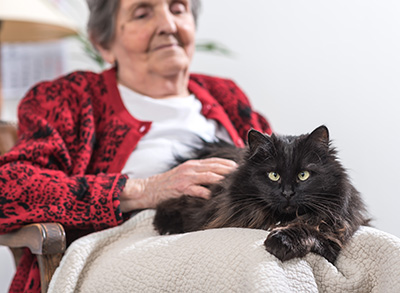 When an elderly owner faces a spell in hospital, the Trust's national fostering service is a lifeline for their pets. Volunteers take the cat (or dog) into their own home, supplying all the love and care they need until they can be reunited with their owner.
Sadly there are times when a pet will need long term fostering, such as if their owner has died or moved to residential accommodation which doesn't accept pets.
To ensure pets are well cared for on either a short term or lifetime basis, the Trust recruits volunteer fosterers to provide each animal with a loving home. This brings peace of mind to their owners and security for the animal's future.
Lifetime Cat Fostering
Lifetime fostering is like adopting a cat, but with additional support provided by the Trust. If an owner has died, or needs to give up their cat, for example if they are moving permanently into a care home, the Trust will place their cat into a lifetime foster home. All pre-approved veterinary bills will be covered for the rest of the cat's life, and the fosterers are supported throughout.
Deborah told us: "Any cat would be theirs to love and cherish as their own, with us there as a back-up should their circumstances ever change. We are there for any advice and support, and to cover all pre-approved vet fees from a wormer to major surgery. Cats could come to us from anywhere in the country, and we try to home them in the county they live, or as near as possible to limit travel upset for them."
Lifetime Fosterer: Nicky from Cornwall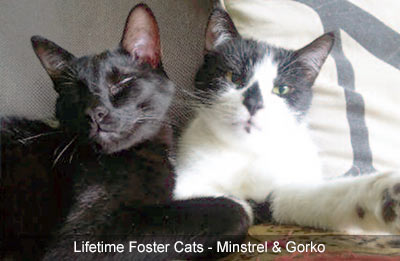 "Our home and our lives were perfect for sharing with cats, but the main concern preventing us from getting one was the risk of potential veterinary fees. So, it was absolutely amazing when I realised that The Cinnamon Trust provide all their fosterers with a strong support framework that also includes the safety net of paying for any veterinary fees.

Following the registration process and a home check, almost instantly a bonded pair of cats, Minstrel and Gorko became in need of a home, as their owner had sadly passed away. The Cinnamon Trust made all the arrangements and, within a few short days, they arrived.

It has now been a good nine months since Gorko and Minstrel came along to join our family. They are so full of love and affection, and it has been an absolute joy to have them in our lives.

The Cinnamon Trust has been amazing, and totally supportive. As well as being devoted to the wellbeing of the animals that are under their protection, They have also shown a complete interest in the happiness of both myself and my husband as lifetime fosterers. Dealing with The Cinnamon Trust has been nothing but a pleasure and I would highly recommend it to anyone."
Short Term Cat Fostering
For those over 65 who need to be away from home for a period of time, such as a hospital stay, the Trust provides short term foster homes.
If the owner is going to be away for less than 14 days a pet sitter is normally used so that the cat can stay in their own home. However, for longer stays it is often better for the cat to go to a temporary foster home, where they can receive more regular companionship until their owner is home, and well enough to take care of them again.
The Trust are currently looking for more short term fosterers in all parts of the UK who would be prepared to look after a cat whilst their owner is in hospital.
Short Term fosterer Lucy from Newcastle-Upon-Tyne said: "I would wholeheartedly recommend fostering for The Trust - not only do you have a wonderful pet to love but also huge satisfaction knowing you have eased someone's burden at a very difficult time."
Could You Become a Cat Fosterer?
So, what do you need to become a cat fosterer for The Cinnamon Trust? Deborah explains: "All anyone really needs to become a life long fosterer is a safe home, some patience, a love of cats and time to care for them."
Once a possible match is found the Trust will contact you to confirm and make arrangements. "We will never just appear on your doorstep, and we always talk to our fosterers first before placing a cat with them" says Deborah.

"You won't ever be going it alone. we are available 24/7 for any help and advice, you will always feel fully supported. We cover all pre-approved vet fees for the rest of the pets life apart from vaccinations. We also provide up to 4 weeks holiday cover a year."
Lifetime Fosterer: Maggie from Kent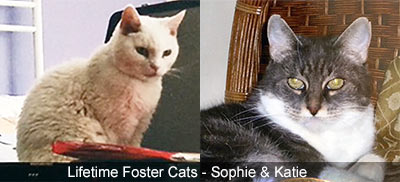 "When I heard through a friend that the Cinnamon Trust had sent out an urgent call to find a home for two cats close to our area, I offered to help. The cats' owner had sadly died and with no one to care for them, the Trust had swung into action. And that's how sisters Sophie, pure white and aged 11, and Katie a tabby of 10, came into our lives.
Sophie was a gentle soul who settled in straight away and loved being with people. She especially enjoyed helping in the home office! Unfortunately very soon after she arrived with us, she developed a heart condition and in less than a year, she'd passed over the rainbow bridge. However, Katie, who was initially terrified of everything, also finally settled and then became The Boss. After we lost Sophie we homed various other rescue cats, all boys as it happened, and Katie - who lived to the ripe old age of nearly 20 - never let any of them forget who was in charge!

Almost ten years as a lifetime fosterer with the Cinnamon Trust proved a lovely and rewarding experience. Right from the first home check through until Katie finally left us, they were always on hand to support us and the cats with help and advice. It was a privilege to be involved with this amazing organisation which does so much for animals and older people."
Sharing Your Heart and Home
The Cinnamon Trust is always on the lookout for new fosterers. Deborah says: "We are looking for anyone who loves cats and is willing to share their heart and home with a furry friend or friends. We are looking for people of all ages and all walks of life. Some cats that come into our care are used to a quiet home where they are the only pet; others come from a rural home and are not used to busy roads or children. Some may need extra time and patience to settle as all they have known is their elderly owner or may have had several homes and feel unsettled and may want to hide away.

We can't always promise a lap cat but what we can do is promise to support our fosterers to enable them to provide the best of care and to nurture any cats to give them the confidence to thrive and blossom in their new home. Any extra enquiries would be fantastic. We are running out of good foster homes."

If you are interested in fostering for the Cinnamon Trust, email them at: This email address is being protected from spambots. You need JavaScript enabled to view it. or call their fostering line on 01736 758 703
Can't commit to fostering but want to help The Cinnamon Trust? Perhaps you could join their network of volunteers across the country, who provide pet care assistance, such as walking a dog for a housebound owner?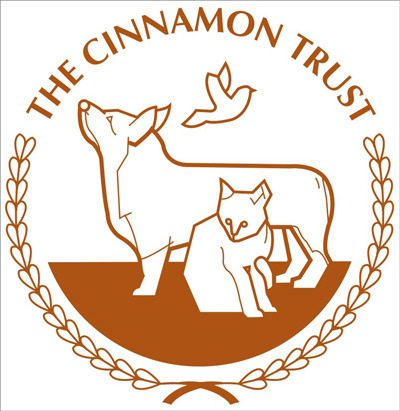 Further Reading
Visit the Cinnamon Trust: cinnamon.org.uk
More about cat fostering: Could You Foster?
Contributor: Ella Street, Cat Chat Blogger
Published: March 2021