The Role of a Cat Fosterer • Who can Foster? • Feral Kittens need Socialising • Why More Fosterers are Needed • Pros and Cons of Fostering • What Support to Expect? • How to Volunteer as a Cat Fosterer • Where to Apply
---
The Role of a Cat Fosterer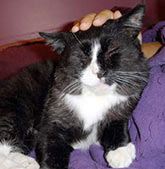 Cat Rescue organisations do not all have a permanent shelter, or the room to take in all the cats and kittens that need their help. This is where fosterers are vital, as their role is caring for rescue cats whilst they are 'between homes'.
Fosterers work voluntarily for a rescue, looking after the cat at their home, until a suitable permanent home can be found. Some rescues provide pens for their fosterer's garden, similar to those in a cattery, other rescue groups prefer their cats to live inside the fosterer's home.
Larger organisations may have a network of fosterers whereas others only have a few - in both cases however, fosterers are a hugely important and much needed part of a rescue's team. Most rescues who rely on fosterers could always do with more. Most rescue and rehoming groups have a long waiting list of cats needing to come in, and not enough room to take them all - one extra foster home could make the world of difference!
Cat fostering involves providing love, care and all the necessities to ensure they are healthy and happy. If you go out to work, or have other pets, you can still become a fosterer. You don't need to have a garden to foster. If you have other commitments or plans in the future, that's fine too - fostering can be as long or as short term as you like.
Most rescues have a long waiting list of cats needing to come in...
One extra foster home could make the world of difference!
Who can Foster?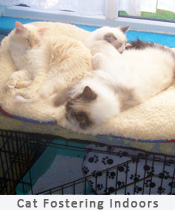 The short answer is 'Anyone'! The qualities of a good fosterer are: patience, understanding, and unconditional love. Some fosterers also have cats of their own, and some have only foster cats. Fosterers are as diverse and individual as the cats who need them. There is no upper age limit to becoming a fosterer!

Older people can make excellent foster parents; so if an older person has resisted getting a cat because they are worried that it may outlive them - then fostering could be the answer. Many rescues will arrange 'permanent fostering' of Senior Kittizens to Senior Citizens, meaning they never have to give the pet up, and there are no worries about vets bills.

People who take several holidays in the year often resist getting a cat as a result. However, short-term fostering can work well in such situations. Co-ordinating with the rescue, becoming a short-term fosterer allows you the company of cats when you are home, and gives cats in need that vital halfway-house before they are permanently homed.

People who find it hard to cope with the grief when a pet dies, may decide not to have pets for that reason. Fostering allows you to enjoy the company of cats again, but without the grief of bereavement... and instead experiencing the joy when they go off to a permanent, loving home, knowing that you helped them in their time of need.
Feral Kittens need Fostering and Socialising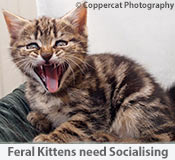 People with more time on their hands, might consider a fostering/socialising role, particularly during the summer 'kitten season' period. This is when many rescues take in mums & kittens born outside, who have not been used to human contact. Such kittens may start out terrified of humans, but if rescued young enough they can be successfully 'socialised' and then rehomed to a normal, domestic environment.
Socialising feral or semi-feral kittens for rehoming can be particularly suited to experienced cat owners, but even if you are not, patience and understanding are the key requirements. For willing new fosterers, there will be people at the rescue able to offer advice and guidance. Winning the trust of and 'taming' formerly wild kittens, so that they can go on to lead a happy domestic life is extremely rewarding for the fosterer!
The 3 Qualities needed to be a cat fosterer: Patience • Understanding • Unconditional Love
Why more Cat Fosterers are Needed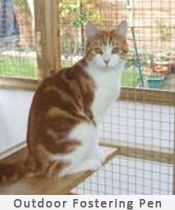 The reasons cats come into a rescue are many and varied. Although some may have a behavioural issue which needs working through, the main reasons cats find themselves in rescue are due to an owner's change in circumstances; the owner has moved to somewhere that doesn't allow pets, the family is emigrating, relationship breakdowns and divorce, a family member has an allergy, or the owner has died or gone into a care home. Some cats are just simply 'unwanted', some are found wandering (strays) and some have never lived with people (ferals or semi-ferals).
Each cat has a different personality, and a different history, and will react differently to being fostered. Sometimes they have been through ordeals that you may never know about, other times you know exactly what they've been through, and yet others will simply have come from a loving home, and just be bewildered as to why they have lost their family. There can sometimes be medical or behavioural problems to overcome, which the rescue will advise on.

Every year more and more kittens are born either by pets not being spayed/neutered or by breeders who's kittens then take up the homes that a needy rescued cat could have had. The fact is that rescues are overrun with more cats and kittens each year, especially in the spring/summer months ('kitten season'), when good foster homes are needed more than ever.

A caring fosterer can really turn a cat's life around for the better. Being fostered makes a huge difference to the lives of these animals, keeping them safe and healthy until they are permanently adopted.
A caring fosterer can really turn a cat's life around - for the better.
The Pros and Cons of Fostering
Benefits, Drawbacks & The Satisfaction Factor...
Undoubtedly, the biggest benefit to fostering is that you are helping an animal who has fallen on hard times, towards a better future. Sometimes this can be the first time in their life that they have felt safe, cared for and loved.

The feeling of achievement when a nervous ex-stray finally comes up to you for a fuss, after maybe weeks (or months) of shying away from human contact, is wonderful. If you ever felt you wanted to make a real difference to an animal's life, then please consider fostering.
When your foster cat goes to its permanent home it will be bittersweet, especially if it has been a tougher case (i.e. working to bring out a shy cat) as well as if the cat has been with you a long time. It's almost heartbreaking and you may wonder why you put yourself through the heartache... until the next needy cat comes in and you're reminded of exactly why you foster: because they need you!
Be warned though... a high percentage of fosterers fall in love with their first foster cat... and end up keeping them!
Make a real difference to animal's lives - please consider fostering!
What Support Can You Expect From The Rescue?
Provisions: This will depend on the financial situation of the rescue. Some rescues are able to provide all the essentials for your foster cat; litter, food, litter tray, beds etc. but others may not have the finance to cover everything. Do ask about this before you begin fostering, as rescues do vary as to what they can afford.

Veterinary Bills: Any veterinary bills should be covered by the rescue. You may have to use the rescues nominated vet, so do clarify this before you begin fostering.

Backup & Advice: You should be given contact details for the welfare co-ordinator or person in charge, in case of emergencies; they will be able to provide you with answers, or at very least suggestions on what to do or who to call.
Volunteering to Become a Cat Fosterer
The main requirements of a fosterer are patience and understanding towards animals of varying temperaments, as they will have come to you from a range of different circumstances and backgrounds. You may also need to meet potential adopters, as they may come to view the cat(s).
On the practical side, it is extremely useful if you have a car, whether this be for picking up any supplies from the rescue, or for transport to the vets. Being car-less may not be a problem for some of the better staffed rescues, but could be essential for other rescues who have neither the time nor manpower to assist with transport.
Before applying to become a cat fosterer, do make sure that all other members of your household are as keen as you on fostering! The cat or cats will become part of your family, even if only temporarily, so for the sake of the cat - and your family - everyone needs to be on board with the idea.

After making your application, if you then decide to proceed it is probable that someone from the welfare side of the organisation will come to visit you at your home. This is to assess where you would keep the foster cats/kittens, and also the area around to ensure the safety of the animals, making any recommendations where needed. This is also your opportunity to ask questions or to raise any concerns you have about fostering.
Cat Fosterers Needed! Apply Here...
If you feel that fostering is right for you, start by contacting one of the organisations below. Please remember many rescue workers are volunteers with day jobs, so if you don't get to talk to someone straight away, do leave a message for them to call you back.
Shelters & Rescue Groups:
Most shelters and rescue groups need volunteer cat fosterers (short-term and long-term), to care for cats 'between homes'. Contact rehoming organisations in your area here: Cat Rescue Groups and Shelters across the UK & Ireland

Blue Cross:
Caring for Blue Cross pets until they can be rehomed. Pets might be recuperating from operations, too young to rehome or cannot cope with centre life. May involve fostering pregnant females, or mums and kittens: www.bluecross.org.uk/volunteer-pet-foster-carer
Cats Protection - Lifeline scheme:
Cats Protection's cat-fostering service 'Lifeline', cares for the cats of those fleeing domestic abuse. Fosterers currently needed in London, Herts, Beds, Berks, Bucks, Essex, Kent, Sussex, Surrey, Hampshire, Yorkshire, East Anglia & The Midlands. Find out more here: www.cats.org.uk/what-we-do/cp-lifeline
Cinnamon Trust:
The Cinnamon Trust (the national charity for the elderly and terminally ill and their pets) are always looking for more volunteer fosterers. This could be short-term fostering, whilst an elderly owner is in hospital, or 'Lifetime' fostering for cats needing a permanent home. Check out our blog post 'Cat Fostering for the Cinnamon Trust' or visit their website: www.cinnamon.org.uk
---
Photo Credits - thanks to: UK Ragdoll Cat Community, Atherton & Wigan Metro Cats Protection and foster cat Bodger.