---
How to maximise adoption enquiries with your Cat Homing Page...
1. Update your Page Reguarly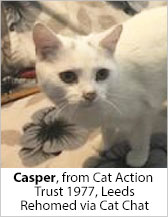 This may sound obvious, but if you want Cat Chat to help find homes for your cats - put them on your page! A regularly updated page with a good selection of cats, will draw more people to your page. People will be encouraged to come back regularly, to look for any new cats you have added - resulting in more adoption enquiries. Whenever you update your page (even changing just one word of text), the 'Last Updated' date on your page will change to today's date, letting people know that those cats are still seeking a home. You can have as many cats on your page as you wish. When you add a cat to your page it will automatically appear on our central Cats Needing Homes section.
If you need help updating your page, contact our Help Team - see Useful Links at the bottom of this page.
2. Honest Descriptions = Better Homings
When writing a cat's description, be completely honest about the cat's needs and character - no matter how hard-to-home this may make them seem. That way, it will attract exactly the right kind of home for that cat. Cat Chat is visited by a high number of experienced, rescue-minded cat lovers (many of whom seek out the 'less easy' cats), and the right homes are frequently found for the more tricky-to-place cats, so tell it like it is! We often hear from shelters who have had a cat 'for ages', then eventually put them on their Cat Chat page and find they are homed in a flash. We firmly believe there is a home out there for every cat, so give them all a chance... put them on your page!
3. Use the Help Guides within your page
When you are logged in to your Cat Chat page, visit the 'Help & Tips' section for easy-to-follow Help Guides for using your page. Even if you've had your page for a while, there will still be handy hints for you there; such as using the "Bump" button to re-order cats on page, how to "Hide" / "Show" a cat to temporarily remove them from view, uploading multiple images, using your "Homed" section, learning how to rename, resize, crop or rotate an image after uploading and much more.
4. Include Photos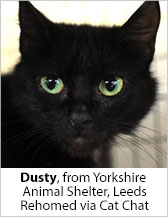 A good photo really helps to promote a cat! People 'connect' much more with a cat if they can see it. Your page has a generous size limit (up to 300KB per photo, and a max. width of 1000 pixels). You can include up to 4 photos on each listing; one 'main' photo, and if you wish, up to three 'additional' photos. A good close-up photo can help - you can crop photos within the admin area of your page to trim off any unwanted background in a photo. Check out our blog post with top tips from a professional cat photographer, to help you get the best photos of your cats here: How to Take Great Cat Photos. For more help, see the 'Images' help guides in the Help & Tips section of your Cat Chat page, which includes details of free on-line image re-sizers if you need them.
If you need help adding photos to your page, contact our Help Team - see Useful Links at the bottom of this page.
5. Detail, Detail, Detail!
The more detail about each cat you can include on their entry, the more interest it will attract. Homing Pages with plenty of detail about each cat consistently have a higher rate of enquiries and homings. Potential adopters like to read about how the cat came to be in rescue, as well as about the cat's personality, their likes/dislikes, any special or unusual habits, and what kind of home they would like. If the cat has a particularly sad history, include that too; whilst it may feel as though you are pulling on people's heartstrings, it may help to find that perfect, caring home. Feel free to have fun with your entries; Imagine you are the cat telling their story, you'll be surprised what a difference it makes!
6. Harder-to-Home & Overlooked Cats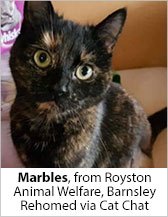 Rescue shelters with a Cat Chat Homing Page can also have cats featured on our Overlooked Cats section, which gives extra publicity to harder-to-home or long-stay cats. The 'Overlooked' section has a good track record of finding homes for previously 'un-homeable' cats. Cats featured on your Homing Page for more than five months will automatically be added to the Overlooked Cats section. You can also request other cats to be featured, ie, if they have been at your rescue for over five months, or they are harder-to-home for any reason; just email This email address is being protected from spambots. You need JavaScript enabled to view it. and we'll do the rest.
7. Review your Entries periodically
It's a good idea to review the entries on your page every so often, updating them where needed. For example if a shy cat is now becoming more confident and friendly, update the text to let people know. If a cat was rescued in a bad condition, update their listing as they improve in health and looks, so that people can follow their story. If your cats are fostered, ask the fosterer to provide progress reports, which can be added to their entry. Reviewing your entries every few weeks ensures that potential adopters have the up-to-date story, and you won't miss out on that perfect home! There are 'Preview' options within your page to show you how your cat's listings, and your whole page looks to the public, or visit our main Cats Needing Homes section to see your cats, and your page.
8. Include a Video
You can easily add a video to cat's entries on your page. Videos need to be uploaded to YouTube initially (it's easy and free to get a YouTube account), then you simply copy a short reference code from there into your Cat Chat page. For instructions, see the "Videos" guide in the Help & Tips section of your Cat Chat page.
9. Your 'Homed Cats' section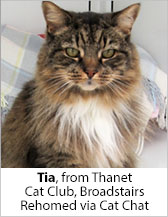 When a cat is homed, it's a good idea to move them into the 'Rehomed Cats' section of your page. People love to see cats who are now happily homed, and it reassures them that you are actively and successfully rehoming. It can also be further encouragement to adopt from you! You won't want to keep lots of ancient 'homed cats' on there, but having your most recent homings there will certainly enhance your page. To move a cat over to your 'Rehomed Cats' section, go in to 'Edit' the cat's listing, change the 'Category' field from 'Cats Needing Homes' to 'Homed Cats' and click Save.
10. Ask us for a Short Page Address
We offer free short page addresses, in this style: www.catchat.org/sheltername linking directly to your Cat Chat Homing Page. Short page addresses help greatly when you want to publicise your Cat Chat page (on emails, Facebook, Twitter, newsletters, on your own website etc.) or when telling someone where to view your cats. A short page address is easy for people to remember, (or to write down). We do all we can to promote your page, but any extra promotion your can do yourself will all help! To get a short page address, email This email address is being protected from spambots. You need JavaScript enabled to view it. stating what you would like your page address to be. (NB. short page addresses must only be letters / numbers, not symbols)
---
Useful Links
Cats Needing Homes section: This is where the cats on your page will appear: Cats Needing Homes
Overlooked Cats section: This is where your Overlooked cats will appear: Overlooked Cats
Help Team: If you need us to add cats to your page for you, use our Submit a Cat form
Help Team: For any other help with your homing page email: This email address is being protected from spambots. You need JavaScript enabled to view it.
Logging in: Log in to your Cat Chat Homing Page here (or click the purple button below).
Got Overlooked Cats?: To contact the 'Overlooked Cats' team, email: This email address is being protected from spambots. You need JavaScript enabled to view it.
Homing Successes?: To advise us of cats homed via Cat Chat, email: This email address is being protected from spambots. You need JavaScript enabled to view it.
Want a Page?: If your shelter doesn't yet have a free Cat Homing Page, apply here: Free Cat Homing Page


---