Does your Rescue Centre need MORE HOMES for cats in your care?
A FREE Cat Homing Web Page on Catchat.org can help!
---
About our Cat Homing Web Pages: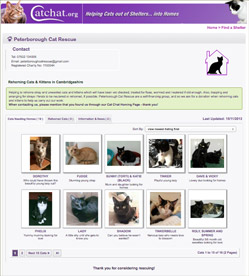 If you run a Rescue Centre, Shelter or Rehoming Group in the UK or Ireland - Cat Chat is here to help you... and your cats! We are also able to help Vets Practices with cats to rehome...
If your rescue group or shelter doesn't yet use the web to feature cats seeking homes, you are missing out on many potential new homes. If you already feature your cats on the web, you can still have a free Cat Chat Homing Page.
You don't have to be a registered charity to have a Cat Chat page, but we do insist that all cats featured on your page who are old enough, must either already be neutered/spayed, or will be neutered prior to homing.
The Cat Chat website sources homes for currently over 8,000 cats annually from rescue groups and shelters across the UK and Ireland. Don't let your rescue cats miss out!
Get your Free Page now - find out more below...
---
Who Can Have a Page?
Our cat homing pages are available to all UK and Ireland-based cat rescue shelters, rehoming groups and vets practices.
No Cost to You
The pages are free. We set your page up, host it and promote it on the Cat Chat Charity's website at no cost to you. All you do is input your cat's details, updating the entries on your page as needed (easy instructions provided)... and wait for offers of homes to start coming in!
Unique to Your Rescue
Your rehoming page is unique to your rescue group or shelter, headed up with your rescue's name, contact details and logo (if you have one). We provide you with unique logins to access your page.
Easy to Update
The pages are easy to update through any web browser (on computer or tablet), and come with simple step-by-step instructions. No web design knowledge is required, and no special software is needed. If updating the page yourself is a problem, our Volunteer Help Team will be happy to assist.
You Have Control
You have complete control over all aspects of rehoming - we don't get involved in your homing procedures at all. Our job is to get your cats seen, to promote your page, and to put more potential homes your way!
Contents of Your Page
You can feature as many cats seeking homes on your page as you wish. You can include up to four photos of each cat, and a YouTube video if you wish. Each page has sections for 'homed cats' (to show your successes), and 'information & news' (for homing notes, news, events, volunteers needed etc). However, there must always be some cats for homing on your page, as that's what the public visit Cat Chat for!
We'll get Your Page Seen!
All cats available for homing on your page will automatically appear in our well-visited Cats Needing Homes section. Also, we place regionally-targeted links to your page throughout the Cat Chat website, so that most visitors to your page will live in or near to your rehoming area. Cat Chat is well indexed by Google and other search engines. Also, when your page has been 'live' for a short while, it will be picked up individually by search engines.
Short Page Links
We can also offer you a Short Page Link, in this style: www.catchat.org/sheltername linking to your Cat Chat Page. Short Links are really useful for letting people how to find your Cat Chat page, or when promoting your page on social networks, emails, flyers etc.
Additional Promotion
If you have a website of your own, we will link to it from your Cat Chat page to send more visitors to your site. Similarly, you could if you wish, add a link to your Cat Chat page from your own site.
Help for Your 'Overlooked' Cats
Shelters with a Cat Homing Page can also use our Overlooked Cats section, giving extra publicity to harder-to-home or long-stay cats. Each shelter can have up to 2 entries on the Overlooked Cats section (pairs count as 1 entry).
Questions?
If you have any questions about our Cat Homing Pages, just email us at: This email address is being protected from spambots. You need JavaScript enabled to view it.
Want a PAGE for YOUR RESCUE? Click the FREE PAGE button further down the page...
Top Tips for Good Homing Results
Regular Updates
Update the cats on your page regularly; ideally weekly (more often if you wish), or at least fortnightly. You may put as many cats as you like on your page, or you can start a page with just one cat, (although more cats on your page usually means more enquiries). To maintain our homing standards, pages which are not updated for over two months, following our standard reminders, may be de-activated until such time as they are updated. If updating your page is a problem, our Volunteer Help Team can assist.
Photos
Including a photo(s) of each cat greatly increases their chances of homing offers. No matter how good or bad the photo is, people 'connect' more with a cat if they can see it. There is a generous size limit (up to 300KB per photo). If you need help uploading or preparing photos for your page, our Volunteer Help Team will be pleased to assist.
Full and Honest Descriptions
Be totally open and honest about the cat's needs and character - no matter how 'hard to home' this may make them seem. Cat Chat is visited by a high number of experienced, rescue-minded cat people, and the right homes are frequently found for the more tricky-to-place cats, so tell it like it is!
Top 10 Homing Page Tips!
Further tips on getting the best from your homing page here: Cat Chat Homing Pages - Top 10 Tips
Examples of some current Homing Pages
Get a Homing Page for Your Rescue
IMPORTANT! Before applying for a page - Please Note:
All adult cats placed on Cat Chat must either already be neutered, or will be neutered prior to homing. Pages found to be featuring un-neutered adult cats may be removed without prior notice.
Kittens for adoption must be at least 8 weeks old.
Cat Chat's remit as a charity is to support rescue shelters and cats within our registered coverage area of the UK and Ireland. Therefore we are unable to assist organisations based outside of the UK or Ireland, or organisations based in the UK or Ireland, whose main or sole purpose is to import animals from overseas.
Cat Chat reserves the right to refuse any application for a homing page at our discretion.
To APPLY FOR A PAGE for YOUR RESCUE - click the FREE PAGE button below:

---
Hundreds of rescue organisations around the UK and Ireland already have a Cat Chat page, with great homing results. For a selection of recent Homing Successes achieved through the Cat Chat pages, visit our Rehoming 'Roll of Honour'
---
What Shelters Say about their Cat Homing Page
Thank you so much. We homed almost 100 cats through Cat Chat last year, not counting cats not on the page who were adopted after people came to see cats who WERE! City Cat Shelter, Brighton
Since our Cat Chat webpage went live we have had a great response, with some amazing, nurturing homes and are blown away at how things have changed for us. Willows Cat Adoption Centre, South Shields
We really appreciate the support we get from Cat Chat, and our rehoming rate has gone up noticeably since you set up our homing page. We, and the cats, are very grateful! Marjorie Nash Cat Rescue, Amersham, Bucks.
The page looks absolutely fab!! The links are great - especially for some of the shyer mogs, who don't show themselves to their best advantage when people come to see them. Many thanks from us and our pusscats. Cats in Need, Hinckley, Leics
I would like to take this opportunity to thank you for all you do to help re-home our cats, we have have lots of inquiries coming from your site. Royston Animal Welfare, S.Yorkshire
In stark contrast to many responses to adverts placed in our local newspaper, the people who contact us through our Cat Chat homing page have all been genuine cat lovers. They seem prepared to take on older cats or those with medical conditions, as well as the healthy cats we have up for adoption. Animal Accident Rescue Unit, Notts
---
Want a free Cat Homing Page for YOUR RESCUE? >> APPLY HERE
We look forward to helping more of your cats get seen… and adopted!
---