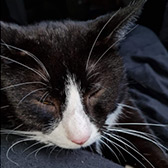 Hi there, my name is Gingerbread and I am a very special lad who is looking for a very special home. I am 2 years old and have spent all my time pretty much here at the rescue; I am neutered and am looking for an indoor home where I can be the only pet and king of the castle. I have delayed processing with my eyes; this means I don't see very well at all and I can't process the information I take in very quickly. I also sometimes miss things with my hearing too. I rely very much on my sense of smell, which can be thrown by people wearing perfume or aftershave and that can cause me to become confused and bite, so i need a home with someone who is happy not to wear perfume or other scented products. I am a love bug really and thoroughly enjoy wiling away an evening on a lap and a few things to nibble on as I explore things with my mouth, rather than my other senses. My ideal home would be one where I am the only pet and I would be over the moon if you had a catio, so that I could safely spend time outside. If you think you could be the one for me please get in touch and if you can't then please share my story.
Advice & Tips on caring for a blind cat here: Caring for a blind cat
GINGERBREAD is at Feline Cat Rescue, Luton. Rehoming in Luton, Dunstable, Hatfield and the surrounding area. To make an enquiry, please call: 01582 732347, and please mention you saw Gingerbread on Cat Chat, thank you!
See More Cats at This Shelter...