Cats Needing Homes - UK & Ireland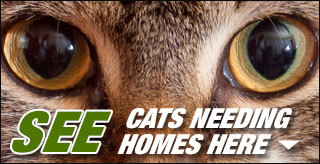 Cats Search
See Cats for Adoption: Choose Your Area...
Could You Adopt a Rescue Cat or Kitten?
By adopting, you are helping TWO (or more) cats... by freeing up that shelter place for another cat in need!
---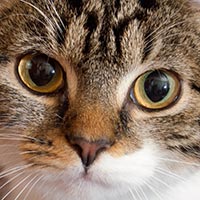 Ready to Rescue?
Adopting a rescued animal is one of the most rewarding things you will ever do, but please remember, it is a life-long commitment. The average life span of a cat is 12-16 years, but it is not unusual for some cats to reach 20 years or more. Food is relatively cheap, but vet bills, cattery fees and regular costs such as worming and flea treatment must also be considered.
Right now, there are thousands of amazing and unique cats in rescue centres around the UK and Ireland, waiting for someone to offer them a new life. Are you Ready to Rescue?
Just Select Your Area (above) to see Cats for Adoption Near You!
---
When adopting, please consider the harder-to-home cats...
---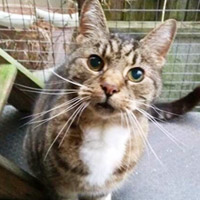 Senior Kittizens!
Please consider adopting an older or adult cat; they are usually undemanding and need little or no house training. Cats as young as just 8 or 9 years get overlooked, even though that's just middle aged! If you overlook the oldies, you will be missing out on some of the most special cats, and that special cat is missing out on the loving home they long for.
Please read our: Top 10 reasons to Adopt an Older Cat!
---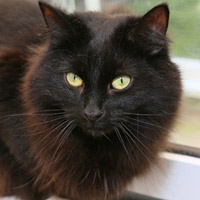 Black Cats
Black cats, and black & white cats often get overlooked in favour of 'prettier' colours. Even black kittens are left until last for adoption. The outlook for a black, adult cat in rescue is therefore very bleak. Some spend many months in rescue, sometimes even years, waiting for someone to see past their colour. If you enjoy the company of cats whatever their colour, please consider adopting a black cat.
Pleae read our: Top 10 reasons to Adopt a Black Cat!
---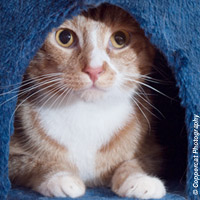 Shy or Nervous Cats
Very shy cats often get overlooked, yet they can be the most loyal of pets once you have gained their trust. Nervous cats will flourish in a calm, caring home, with loving, patient people, who are willing to let them gain confidence at their own pace. They may start out hiding under the bed, but gradualy winning the trust and love of a nervous cat is one of the most rewarding things you can ever do! Ask about shy cats at your local shelter: UK & Ireland Cat Shelter Directory
---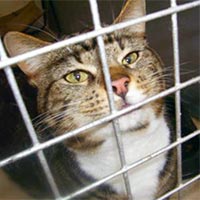 Overlooked Cats
Some cats, through no fault of their own get overlooked in rescue shelters, for weeks, months, sometimes even years. Maybe they just don't push themselves forward as much as the others, or perhaps they are a little shy, or just plainer in appearance. Particularly in 'kitten season' perfectly lovely adult cats are passed by in favour of cute kittens. Could you offer a home to an Overlooked Cat?
Please visit our: Overlooked Cats section