Placing your cat in a boarding cattery can be a daunting prospect, but don't worry, there are some excellent catteries out there! To ensure that your cat has the best possible experience, this page details the points to consider when choosing a cattery.
---
Selecting the Right Cattery for your Cat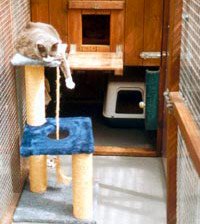 You should start looking for a cattery a good while before you need it, as it may take some time to find one that suits your cat, and also because popular catteries get booked up well in advance, particularly at school holiday times.
Start by making a list of potential catteries – find details of all licensed catteries in your area here: www.findpetboarding.com
You can't beat personal recommendations, so to narrow your search, ask friends, family or your vet. We strongly recommend that you visit a cattery in advance of boarding your cats - a well run cattery will be happy to show you round. Phone the cattery in advance to find out when you can visit - most catteries should allow visitors during their opening hours.
Bear in mind that cats (even those who are used to being around dogs) can get nervous from the sound of barking, so it's best to choose a cattery rather than a combined kennel and cattery.
We strongly recommend visiting a cattery prior to boarding your cats.
A well run cattery will be happy to show you round!
Points to Look Out For
• Depending on your cat's habits, you need to know if a cattery has an indoor or outdoor area for the cats to run around in.
• There should be enough ventilation to make sure that no air-borne diseases are spread between the cats.
• Check that the cattery block has a working smoke alarm and / or heat censor.
• When you visit the cattery, take a look at the other cats there. Do they look happy and content? Are they stimulated enough?
• Check for general cleanliness of the units, and of litter trays and feeding bowls.
• Talk to the proprietor to get a feel for how they will take care of your cat. They should be welcoming, ask plenty of questions about your cat and allow you to have a good look around the cattery.
• All licensed catteries should insist on seeing an up-to-date vaccination card, showing recent (within the last 12 months) vaccinations against cat flu and enteritis. If they do not, go somewhere else as it could mean that your cat will be exposed to diseases from other cats.
• Find out exactly what the price covers – administering medication or grooming long-haired cats may cost extra.
Accommodation
The individual accommodation should be a good size,with a sleeping area and a separate, individual running area. Cats should never share this space, unless they are from the same household. It should be warm, clean and secure, with lots of natural light and preferably with an interesting view to keep your cat stimulated. There should be enough space in the pen to allow feeding bowls to be kept away from the litter tray. Each run should have a raised shelf for viewing and relaxing, and a scratching post. A good cattery will allow you to bring along some things from home, such as favourite toys.
There should either be a gap of minimum 2 ft/60 cm between each accommodation unit, or they should be separated by a full-height solid sneeze-barrier to prevent the cats from coming into contact with each other. There should also be a separate, enclosed passage as an additional safety measure when pen doors are opened for feeding and cleaning.
Feeding
You should tell the cattery of any special dietary requirements that your cat has. A good boarding facility should adhere to your cat's regular feeding habits (within reason).
Medical Issues / Illness
All cats should be fully vaccinated against both cat flu and enteritis (a very contagious viral disease) at the time of boarding at a cattery. Bear in mind when planning your holiday that if your cat has not been vaccinated against these diseases before, you must allow five weeks for them to take effect – your cat will need two injections three weeks apart, then allow two more weeks to give full protection. After the initial vaccinations your cat should have booster injections once a year, and these need to be done at least one week before boarding.
Always inform the proprietor if your cat suffers from any medical problems and discuss any medication they may need to administer during your cat's stay (especially injections for conditions such as feline diabetes) as there may be a small charge for this. Also make sure you write down the name, dose and frequency of medication separately as information on bottles can be hard to read.
Find out what happens if your cat falls ill whilst at the cattery – veterinary insurance may be included in the price or be an optional extra. Check if the cattery will use the customer's vet or if they have their own.
FIV Positive Cats
A good, knowledgeable boarding cattery will have no problem accepting an FIV positive cat, since the virus cannot be transmitted by feeding equipment etc. You should make the cattery manager aware of the cat's FIV status, to ensure that they are not allowed contact with other cats, and also so that they can keep a close eye for any symptoms of illness, and act promptly.
On the Day
• Keep your cat indoors the night before taking it in and transport it to the cattery in its usual carrier. If your cat is prone to vomiting or soiling during travel, keep it off food for several hours before boarding and make sure you tell the cattery that they should feed your cat as soon as possible.
• Bring any favourite toys, as well as some reasonably sized bedding for your cat to sleep on – a blanket or a jumper is suitable, so that your cat will have a familiar smell of home around it.
• Tell the staff at the cattery of any habits (good or bad) that your cat may have, so that they know what to expect and how to look after your cat.
• Before you leave, reconfirm any dietary or medical requirements, your vet's contact details, the date and time that you will pick up your cat and any other important information. Make sure you take the telephone number of the cattery with you, in case you need to contact them while you are away.
Useful Links
Find your local Licensed Catteries & Pet Boarding Services: www.findpetboarding.com
---