---
What is Feline Diabetes? • Signs & Symptoms • Testing & Treatment • Adopting a Diabetic Cat • Further Info and Links
---
What is Feline Diabetes?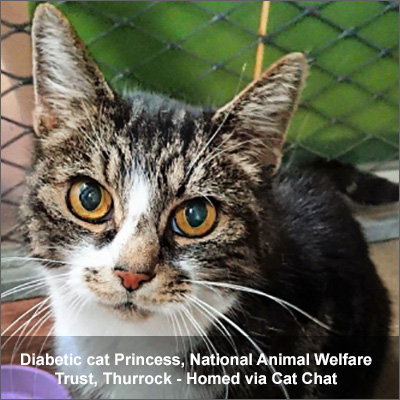 Diabetes is commonly diagnosed in pet cats, with as many as 1 in 200 being affected. Its full name is 'diabetes mellitus', and it is often also known as 'sugar diabetes.' It is similar in many ways to the condition which occurs in humans. It is caused by a failure of the body to regulate blood sugar.
Normally, blood sugar rises immediately after eating a meal, then reduces back to baseline levels under the control of insulin, the sugar-controlling hormone which is released by the pancreas. The insulin causes the excess sugar to be stored in the liver, where it can be used when needed. In diabetes, either insulin production is reduced, or the body doesn't respond to insulin in the way it should. This means that the body's blood sugar levels are not properly controlled, and blood sugar levels can become very high.
What are the Symptoms?
Diabetic cats become very thirsty and urinate excessively. They may also be lethargic and off colour, and some may vomit, show an increased or decreased appetite and lose weight. They may also strain to urinate or pass blood in their urine, as diabetic cats are prone to urinary tract infections.
"When diabetes had been diagnosed, the vet talked us through the treatment and what we would need to do. On first hearing, it did sound complicated. But the instructions were in fact quite easy to follow and once we got into a routine of twice daily insulin injections, watching the diet, and learning to keep an eye out for any changes in Monty's behaviour, we relaxed and so did he." - Maggie, Diabetic Cat Owner
How is Feline Diabetes Treated?

If you suspect your cat may be diabetic, it is important to arrange a health check straight away. Your vet will be able to diagnose diabetes using a blood test and a urine test as well. Diabetes is usually treatable, but requires patience and commitment.
Managing your cat's diet will be an important part of treatment, especially if he or she is over or underweight. Additionally, most cats will require medication, which is usually needed for life. There are tablets available; however this kind of treatment is rarely successful in cats. Most cats will need to be injected with insulin, either once or twice daily, at the same time every day. This can be a little daunting at first but it is a simple skill to learn. Most cats tolerate this treatment very well, and your vet should provide the help you need to get started.
It often takes a few weeks to find the right dose of insulin for your cat, which will mean regular trips to the vet, so that the dose can be slowly tailored to your cat's needs. However, once stabilised, most cats will live a relatively normal life, with check-ups every 2-6 months at the vet. It's a good idea to watch for any changes in the cat's behaviour, as this may indicate a need to adjust medication levels. Diabetic cats can often live into their teens with a good quality of life, so a diagnosis of diabetes is definitely not cause for despair!
"People are often worried, as we were, in case they might hurt the cat while giving the injections. However the syringe needles are very fine, and the dosages (which the vet will indicate) clearly marked, so it's just a question of practice and confidence. Our vet suggested practice runs injecting an orange before trying on Monty and that was really helpful. Initially, for about six weeks after diagnosis, we had to make weekly visits to the vet so Monty could have blood/urine tests. These are necessary to track glucose levels in order to find out the correct insulin dosage. It's a bit of trial and error at first, but for Monty things became stable fairly quickly and once that happened he only had to go back to the vet for three monthly checks. It is possible to do the urine test at home, but I'm afraid we were never very successful at it! Our vet also advised on a special diet for Monty - which he did get used to... though, as he was a Siamese cross, not without some complaining!" - Maggie, Diabetic Cat Owner
Could you Adopt a Diabetic Cat?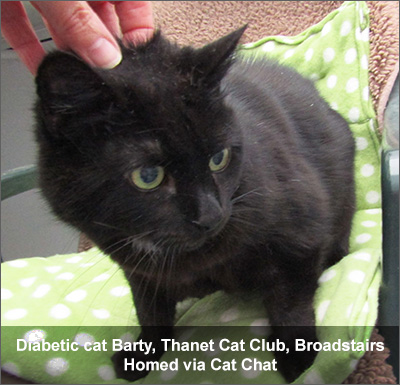 It is estimated that as many as 1 cat in 200 develops diabetes at some stage of their life. Inevitably therefore, rescue centres will from time to time take in a diabetic cat for rehoming. It can be much harder for them to find the right home, and they may stay in rescue far longer than other cats due to their condition, even though in most cases it is easily manageable, with a little extra patience and commitment. Please contact your Local Rescue Centre if you'd like to give a diabetic cat the chance of a loving home.
The vast majority of people who care for diabetic cats master the task of administering insulin injections within a few weeks. If you are diabetic, you may already be used to this, and could be the perfect companion to a furry friend with the same condition!
"Our vet told us that cats are one of the few creatures that can throw diabetes on and off and it is certainly true of our two cats. Spotty has 2 units of insulin a day, but Jack very seldom needs any medication. Neither of them have any sort of ill health. The insulin and syringes aren't that expensive so it really isn't a problem." - Burton Joyce Cat Welfare, Notts.
---
Further Information:
International Cat Care (formerly Feline Advisory Bureau) information & advice: Feline Diabetes Mellitus
Cats Protection Guide to Feline Diabetes (downloadable PDF): www.cats.org.uk/vet-guides
Feline Diabetes website: www.felinediabetes.com
Managing Diabetes in both Cats and Dogs - www.pet-diabetes.co.uk
Advice & Support:
Extra support is available from Your Local Veterinary Clinic
Cat Chat's Feline Forum (Health & Behaviour section): www.catchat.org/felineforum
Cat Chat Vet Advisor - Email: This email address is being protected from spambots. You need JavaScript enabled to view it.
---
Our grateful thanks go to Jenny Stavisky MRCVS BVM&S PhD, University of Nottingham School of Veterinary Medicine and Science for advice and information on this page. Thanks to The AHAA (American Animal Hospital Association) for their 'How to Administer Insulin to your Cat' video. Thanks also to Burton Joyce Cat Welfare, and Cat Chat Chairman, Maggie for sharing their experiences.
---