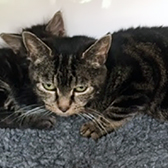 Hello, my name is Mrs Johnson. I'm a beautiful short-haired tabby lady of about two years old, in search of a loving and peaceful forever home. I was pregnant when I arrived in rescue, and having been a caring and protective mum to my kittens I'm now spayed and ready for some pampering of my own, I was diagnosed with FIV which shouldn't affect me so please don't let it put you off, there is more information about it in the links below! As my rescuers don't know what sort of experiences I might have had with humans up until now, they think that a calm and understanding indoor-only home - probably as the only pet - will be ideal for me. I really deserve a chance to enjoy my young life without the stress of fending for myself on the streets, and with the help of a caring human friend will make a terrific furry companion. Why not get in touch?
To find out about FIV: Visit Cat Chat's FIV information page, or the FIV Owner's Club on our friendly forum.
MRS JOHNSON is at Cramar Cat Rescue and Sanctuary, Birmingham. Rehoming across the West Midlands. To make an enquiry, please call: 0121 445 1840, and please mention you saw Mrs Johnson on Cat Chat, thank you!
See More Cats at This Shelter...